Can A 'Death Test' Predict When You'll Die?
By Candy Sagon, March 6, 2013 10:50 AM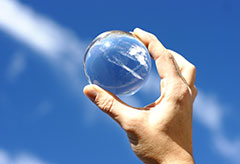 It's not exactly a crystal ball, but researchers have developed a simple "mortality index" - you might call it a death test - to figure out an older person's risk of dying in the next 10 years.

The 12-question test was developed for doctors to use on their patients age 50 and older. Some of the questions might strike you as the "well, duh" variety - do you have a malignant tumor? chronic lung disease? congestive heart failure? - while others ask about everyday tasks that could indicate undiagnosed problems.

As the Associated Press reports, here are some bad signs you won't make it to 2023: getting winded walking several blocks, smoking and having trouble pushing a chair across the room. The test also asks whether a health or memory problem keeps you from managing your own finances, or bathing or showering unassisted.

The test is supposed to help doctors figure out whether costly tests or screenings are worth it for patients not likely to live another decade. Really? They need a test for this? Wouldn't it be obvious that someone in their 80s, say, with various health problems wouldn't be a very good risk for aggressive or invasive procedures?

According to the Associated Press: "Doctors can use the results to help patients understand the pros and cons of such things as rigorous diabetes treatment, colon cancer screening and tests for cervical cancer. Those may not be safe or appropriate for very sick, old people likely to die before cancer ever develops." Ya think?

The test, developed by University of California, San Francisco, medical researchers assigns points for each item, with the fewer points you get the better. For instance, you get one point for each five years of age, so age 60 to 64 is one point, while age 85 and older is seven points. You also get one or two points for each disease diagnosis or everyday activity you have trouble performing.

The highest, or worst, score is a 26, meaning you have a 95 percent chance of dying within 10 years. To get that, you'd have to be an 85-year-old man with all the indicated conditions. For a score of zero - meaning just a 3 percent chance of dying in 10 years - you'd have to be a woman under 60 with no health problems.

The findings were published Tuesday in the Journal of the American Medical Association. They were based on data from nearly 20,000 Americans age 50 and older who took part in a national health survey in 1998 and then were tracked for 10 years.

Stephan Fihn, M.D., a University of Washington professor of medicine and a specialist in health quality measurement, told the Associated Press that the index seems valid and "methodologically sound," but he added that it's probably most accurate for the oldest patients who - let's face it - don't need a questionnaire to figure out their days are numbered.

Check out the items on the list that are assigned points; fewer total points means better odds.

- Men automatically get 2 points. In addition, men and women ages 60 to 64 get 1 point; ages 70 to 74 get 3 points; and 85 or over get 7 points.

- Two points each: a current or previous cancer diagnosis, excluding minor skin cancers; lung disease limiting activity or requiring oxygen; heart failure; smoking; difficulty bathing; difficulty managing money because of health or memory problem; difficulty walking several blocks.

- One point each: diabetes or high blood sugar; difficulty pushing large objects, such as a heavy chair, across a room; being thin or normal weight.

Photo: Getty Images