Check Your Fridge: Bagged Dole Lettuce Recalled in 15 States
By Candy Sagon, April 18, 2012 08:00 AM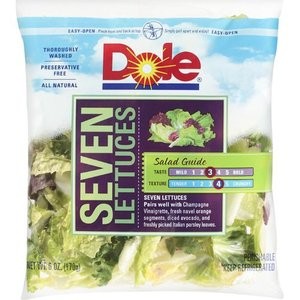 You may need to toss that tossed salad.

Dole Food Co. is recalling nearly 800 cases of bagged Seven Lettuces salad in 15 states because they could be contaminated with salmonella.

The Dole Seven Lettuces salad being recalled is marked with a use-by date of April 11, 2012 and Product Codes 0577N089112A or 0577N089112B, both of which can be found in the upper right corner of the package. It is also identified by the UPC code 71430 01057, located on the back of the package below the barcode.

The bags were distributed in Alabama, Florida, Illinois, Indiana, Maryland, Massachusetts, Mississippi, New York, North Carolina, Ohio, Pennsylvania, Tennessee, Virginia and Wisconsin.

Dole advises consumers to throw out the recalled product. Consumers with questions can call the company's Consumer Response Center at 1-800-356-3111 from 8 a.m. to 3 p.m. (PDT) Monday through Friday.

The most common symptoms of salmonella poisoning are diarrhea, abdominal cramps and fever within eight to 72 hours of eating the contaminated food. The illness can be severe or even life-threatening for infants, older people, pregnant women and people with weakened immune systems.

The salmonella was detected by New York state health officials conducting random sampling for bacteria, according to Food Safety News.

Contaminated bagged salad products have been an ongoing food safety problem. The Dole recall is small, however, compared to last November's recall of 5,379 cases of bagged salad products from Ready Pac, after a random sample tested positive for E. coli.

Is pre-washed lettuce really clean? Some safety tips:

Consumer Reports didn't find salmonella when they tested 208 bagged salad green products in 2010, but they did find other kinds of bacteria that indicated poor sanitation. Here's what you can do:

Buy packages as far from their use-by date as you can find.
Don't forget to wash your own hands with soap and water before washing those greens.
Even if the bag says "prewashed" or "triple-washed," wash the greens yourself. Rinsing won't remove all bacteria but may remove residual soil. Wash under a stream of cold water or using the spray nozzle of your faucet.
Prevent cross contamination by keeping greens away from raw meat.
In other health news:
Be happy. It's good for your heart.
Scientists have long known that Type A personalities and people who are chronically angry, anxious or depressed have a higher risk of heart attacks. Now a Harvard review of the flip side of that psychology concludes that being upbeat and optimistic just may help protect against heart disease.
Trauma patients taken by chopper may fare better.
People who suffer serious injuries may have a better chance of surviving if they're taken to a trauma center by a helicopter instead of an ambulance, suggests new research. The study's lead author said he doesn't know for sure why a helicopter is better than an ambulance or other ground transportation, but two possibilities are the speed of transport and the medical team on the chopper, Reuters reported.
Photo credit: knowabouthealth.com