Dementia Patients Over 65 More Likely To Be Hospitalized
By Candy Sagon, January 12, 2012 08:00 AM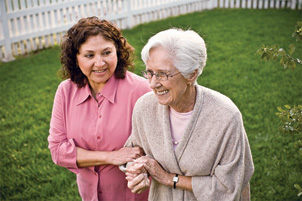 Seniors with dementia are more likely to be hospitalized for illnesses that could have been prevented or treated with better outpatient care, a new study has found.
In the study, which followed 3,091 adults age 65 or older for eight years, researchers found that the 427 seniors who developed dementia had roughly twice the annual hospitalization rate of participants without dementia. Overall, 86 percent of seniors with dementia went to the hospital at least once compared with only 59 percent of those without.
The researchers found that having dementia increased the odds of being hospitalized by 41 percent. More importantly, they found the risk of being hospitalized for potentially preventable illnesses -- most commonly, urinary tract infection, pneumonia and congestive heart failure -- was 78 percent higher for people with dementia.
The study was published this week in the Journal of the American Medical Association.
Elizabeth Phelan, M.D., of the University of Washington School of Medicine and the study's lead author, said hospitalizations often cause further health problems for dementia patients and should be avoided, if possible.
"There have been lots of studies looking at the risks for people with dementia in the hospital. They're at risk for delirium, falls, pressure ulcers; they may need to be restrained, and many never return to their prior level of functioning after a hospitalization. If hospitalizations could be avoided, it would be helpful for preserving cognition and avoiding new problems," she told HealthDay News.
Better in-home care for dementia patients not only can help prevent some of the major causes of hospitalization, she said, it would cost less than a typical hospital stay, and result in fewer health complications.
Photo credit: homeinstead.co.kr