Dementia Study: Calcium Plus Vitamin D Disappoints
By Candy Sagon , December 07, 2012 10:01 AM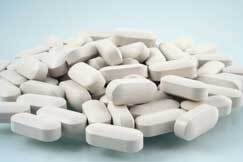 Taking calcium pills combined with low-dose vitamin D did not protect older women from dementia, a large new study found, but the researchers think vitamin D alone may offer some help.
The study, published online in the Journal of the American Geriatrics Society, involved 4,100 women age 65 or older without dementia.
Half were given supplements of 1,000 milligrams (mg) of calcium carbonate combined with 400 international units (IUs) of vitamin D, and half were given a placebo. The women were followed for eight years, and both the supplement and the placebo groups developed dementia or other cognitive impairment at the same rate - about 100 women in each group.
Reuters reports that while the study found no protective effect for cognitive decline from taking the dual supplements, researchers think it may have something to do with the combination of nutrients, as well as the relatively low level of vitamin D.
The researchers noted that since the study ended, the recommendations for vitamin D have increased to 600 IUs daily for men and women up to age 70, and 800 IUs for those who are older.
"I think the definitive study will just look at the effects of vitamin D," lead author Rebecca Rossom, M.D., from HealthPartners Institute for Education and Research, a nonprofit arm of a health maintenance organization based in Minnesota, told Reuters.
Other studies have linked calcium supplements - but not dietary calcium - with increased risk of heart attack.
Earlier this year the U.S. Preventive Services Task Force, a panel of medical advisers to the government, recommended that postmenopausal women not take calcium-vitamin D supplements to prevent bone fractures. The panel said there was no evidence that the pills - 1,000 mg of calcium with 400 IU of vitamin D - protected against fractures, but that there was evidence they increased a woman's odds for kidney stones.
Photo: lanisimpson.com