Fat to Fit
By Kate Hays, June 20, 2011 10:00 AM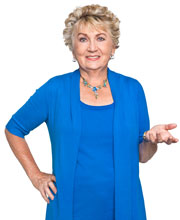 Last week, I had the pleasure of getting to chat with Carole Carson, AARP's Fat-to-Fit Challenge guru. Spunky and engaging, Carole is on a mission: to help others get healthy.

She speaks of what she knows. As she approached 60, Carole weighed 182 pounds, at 5-foot-1. She lost 62 pounds, then decided to take her lessons to a broader audience: she cheered on the community of Grass Valley, California to lose a total of 4 tons of weight.

In between hikes and tennis games, she's turned her weight loss cheerleading on the AARP community, leading our Fat-to-Fit challenge, where this year, she's helped AARP members lose a combined 621 pounds. It's not too late to check out the challenge, and lose a few of your own unwanted lbs. And did I mention there is money to win?

Carole will also be starting this week as a regular AARP blogger, and you can follow Fat-to-Fit tweets on twitter by searching the hashtag, #fat2fit.