FDA: Sleeping Pill Doses Must Be Cut By Half
By Candy Sagon , January 11, 2013 08:00 AM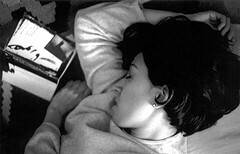 Here's an Ambien alert for those of you who take meds for insomnia: The Food and Drug Administration (FDA) on Thursday ordered the makers of Ambien and similar sleeping pills to slash their recommended dosage by half.
For women, in particular, the drugs stay in their bloodstream longer and at higher levels, leaving them dangerously drowsy in the morning. In its announcement, the FDA said new data show that the drugs remain in the bloodstream at high enough levels to impair morning activities like driving, increasing the risk of car accidents.
Federal regulators are requiring the drug manufacturers to reduce the dose for women from 10 milligrams to 5 milligrams for regular products, and from 12.5 milligrams to 6.25 milligrams for extended release.
The FDA recommends that the lower dose be prescribed for men as well, but is not requiring it, the Associated Press reported.
The announcement applies to all sleep aids that use the sedative zolpidem, including generics and brand-name drugs Ambien and Ambien CR (oral tablets), Edluar (tablet placed under the tongue) and Zolpimist (oral spray).
The FDA said it is particularly concerned about the extended-release forms of zolpidem, used in generics and in Ambien CR, because it stays in the bloodstream longer than the regular form.
Even though drowsiness is already listed as a side effect on the labels of these insomnia drugs, some people with high levels of zolpidem in their bloodstream can be impaired even though they feel wide awake, said Russell Katz, M.D., director of the FDA's division of neurology products.
The FDA decided to take action after driving simulation studies showed that, in some patients, drug levels remained high enough to cause difficulty driving.
Zolpidem, which has been on the market for nearly 20 years, is the most widely used active ingredient in prescription sleep medications, said Ronald Farkas, M.D., with the FDA's neurology products division. About 9 million patients received products containing zolpidem from retail pharmacies in 2011.
For more information on sleeping medications with zolpidem, click here for the FDA's question-and-answer guide.
Photo: P.J.P/flickr