FDA Warns Avon About Antiaging Creams
By Candy Sagon , October 25, 2012 08:00 AM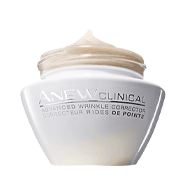 Maybe the government can't quite protect us against injections contaminated with deadly fungal meningitis, but beauty hype -- that's another story.
The Food and Drug Administration has warned Avon that it must stop advertising its Anew skin-care products using language that makes them sound as if they have medical effects, Reuters reported.
In a letter dated Oct. 5 and posted on the FDA website, the agency objected to antiaging claims made about Anew Clinical Advanced Wrinkle Corrector, Anew Reversalist Night Renewal Cream, Anew Reversalist Renewal Serum, Anew Clinical Thermafirm Face Lifting Cream, and Solutions Liquid Bra Toning Gel.
Among the hype the FDA took issue with: claims that Anew Clinical Advanced Wrinkle Corrector is formulated to "boost shock-absorbing proteins to help strengthen skin's support layers" and that Anew Clinical Thermafirm Face Lifting Cream can "fortify damaged tissue with new collagen." Contending that a product affects cells or tissue makes it a drug, subject to a stricter testing and approval process.
The FDA issued a similar warning last month to cosmetics giant L'Oréal SA, makers of Lancí´me wrinkle creams. In both cases, the FDA threatened to block sales or even seize products if the companies don't tone down advertising claims that imply the products have medical properties.
Washington, D.C., dermatologist Tina Alster, a former consultant for Lancí´me, told CBS News that "it's surprising that [the FDA] didn't react to these claims before." Alster says the FDA looked the other way for years as companies inflated the effectiveness of their cosmetics.
Considering that sales of antiaging products last year were almost $3 billion, according to CBS, it's not surprising that skin-care companies try to make their products sound as miraculous as possible.
Avon has 15 days to tell the FDA what changes it plans to make in its advertising.
In other health news:
State officials find unsanitary conditions at pharmacy linked to meningitis outbreak. The Associated Press reports that Massachusetts health officials found both dirty conditions at the compounding pharmacy at the heart of the deadly fungal meningitis outbreak that has now killed 24, as well as evidence that drugs were shipped out before the company confirmed they were sterile. Meanwhile, a New York Times investigation revealed that a pharmacists trade group helped block the FDA from testing samples of drugs from compounding pharmacies a year before the outbreak.
U.S. middle-aged, elderly see higher obesity rate. Older Americans are experiencing a greater increase in obesity rates than are people of other ages, according to a Gallup survey released on Wednesday. Data from nearly 600,000 U.S. adults showed that those ages 18 and older are more likely to be obese than they were in 2008, with a significant jump among adults in their 40s, 70s and 80s, Reuters reports.
Are energy drinks fatally caffeinated? Time.com reports that five people have died in the past three years from consuming caffeinated energy drinks, and one family is suing a drink maker after their daughter died. Between 2004 and June of this year, the FDA received reports of five deaths linked to Monster Energy plus other side effects such as stomach pain, vomiting and abnormal heart rates linked to energy drinks, including Monster, Red Bull and Rockstar.
Photo: Avon.com