Ground-Turkey Test Finds 90 Percent With Bacteria
By Candy Sagon, May 1, 2013 08:34 AM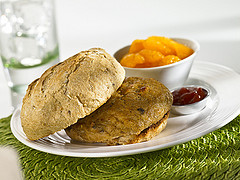 A Consumer Reports lab analysis of ground-turkey products purchased nationwide found that 90 percent had potentially disease-causing bacteria, some of which were antibiotic-resistant.

The consumer watchdog organization said its first investigation of this kind on ground turkey also showed that turkeys raised without antibiotics had much less antibiotic-resistant bacteria than did turkeys raised with antibiotics.

The new report follows a February analysis of store-bought meat by Food and Drug Administration scientists that found antibiotic-resistant bacteria in 81 percent of raw ground turkey, 69 percent of raw pork chops, 55 percent of raw ground beef and 39 percent of raw chicken parts.

The practice of feeding drugs to animals to boost their growth and weight is contributing to the spread of drug-resistant superbugs, the group said. People who get sick from these bacteria might need to try several antibiotics before finding one that's effective against their illness.

"It's very concerning that antibiotics fed to turkeys are creating resistance to antibiotics used in human medicine," Urvashi Rangan, Ph.D., director of the food safety and sustainability group at Consumer Reports, said in a statement. "Humans don't consume antibiotics every day to prevent disease and neither should healthy animals."

The complete report can be found in the June 2013 issue of Consumer Reports magazine and online at www.ConsumerReports.org/turkey0613.

Consumer Reports' researchers tested 257 kinds of raw ground turkey meat and patties, including products from major retailers and store brands. The samples were tested for the presence of five kinds of bacteria: enterococcus, Escherichia coli (E. coli), staphylococcus aureus, salmonella and campylobacter. All of these can cause illness and be fatal in some cases.

The report also showed:

90 percent of the samples tested had at least one of the five bacteria.
69 percent of the products had enterococcus, which can cause an infection of the digestive or urinary tract; 60 percent had E. coli, a major cause of severe food-borne illness. Both bugs are associated with fecal contamination.
Bacteria on ground-turkey products labeled "no antibiotics," "organic" or "raised without antibiotics" were much less likely to be antibiotic-resistant superbugs.
80 percent of the enterococcus bacteria were resistant to three or more classes of antibiotics; so was more than half of the E. coli.


What you can do to protect yourself:

Although the bacteria found are killed by thorough cooking, they can produce toxins that may not be destroyed by heat, Consumer Reports and other food safety experts note.

Your best bet is to buy turkey labeled "organic" or "no anti­biotics," especially if it additionally has a "USDA Process Verified" label, which means that the U.S. Department of Agriculture has confirmed that the producer is doing what it says.

Cook meat to 165 degrees F (use a meat thermometer to be sure). Wash your hands and all surfaces with soap and water after handling raw turkey, and use a clean plate, not the one that held the raw meat, for cooked meat.



Photo: diettogo1 /flickr



Also of Interest

Join AARP: Savings, resources and news for your well-being


See the AARP home page for deals, savings tips, trivia and more