Healthy Surprise: Low-Calorie Menus Spur More Profits
By Candy Sagon, February 13, 2013 07:00 AM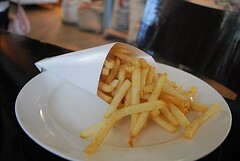 "Healthy" doesn't sell, the restaurant chains said. Low-cal items always tank, the fast-food places whined. Well, guess what? Turns out " healthy" does sell.

A new study finds that fast-food and casual restaurant chains that offer lower-calorie options are seeing higher profits and more customers, while those that don't, aren't. Simple as that. Not only are Americans ordering fewer portions of french fries, the study shows, they're going for smaller main-dish portions and shunning sugary drinks.

The analysis of 21 chains - including McDonald's, Applebee's, Burger King, Cracker Barrel, IHOP, Panera Bread and KFC - between 2006 and 2011 found that lower-calorie food and drinks fueled the chains' growth, the Wall Street Journal reported. The study was funded by the Robert Wood Johnson Foundation and conducted by the Hudson Institute, a policy-research organization.

Restaurants that offered more lower-calorie items saw a 9 percent increase in food and beverage sales, whereas restaurants without them saw sales drop by 16 percent, reported NPR. Lower-calorie was defined as a sandwich or entrée with fewer than 500 calories; a side dish, appetizer or dessert with fewer than 150 calories; and a beverage under 50 calories for an 8-ounce serving.

"The bottom line is, if restaurants don't get more aggressive behind these low-calorie products, they're leaving sales on the table," Hank Cardello, director of the Hudson Institute's Obesity Solutions Initiative and lead author of the study, told the Wall Street Journal. He said even offering smaller portions of regular fare is a win-win for a business and its consumers.

The current regulatory push for restaurants to post calorie counts may also be affecting their actions. They hope customers who see some of those scary-high counts will opt for lower-cal choices instead of choosing to eat elsewhere.

Some chains have responded by creating special sections on their menus offering smaller portions and lower-calorie items, such as Fit Fare at Denny's and Au Bon Portions at Au Bon Pain. After Panera began posting calorie counts on its menu boards, 20 percent of its customers began ordering the lower-calorie items, the company told the Wall Street Journal.

Here are some other newly slimmed-down options, from a story in the New York Times:

Sbarro's Skinny Slice, with a different mix of cheese and more vegetables, at 270 calories. It now outsells all other slice varieties but cheese and pepperoni, a company exec told the Times.
LongHorn Steakhouse has smaller portions of beef that qualify for its low-calorie Flavorful Under 500 menu.
Wing Zone added Skinny Dippers - fried chicken-breast nuggets with no breading.
Pita Pit added Resolution Solution to their menu with under 500-calorie suggestions, like a 450-calorie Light Caesar pita.


Photo: avlxyz/flickr