Hey Victoria's Secret, Why Not a Bra for Mom?
By Candy Sagon , January 18, 2013 08:00 AM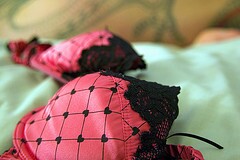 After two decades watching her mother, a breast cancer survivor, struggle to find a comfortable, attractive mastectomy bra, Allana Maiden, 27, had had enough.
Why should it be so hard for women to find a mastectomy bra that makes them feel sexy and attractive, she wondered. Shouldn't a company that caters to women and promotes breast cancer awareness step up?
So Allana has started an online petition drive calling on the lingerie chain Victoria's Secret to create a line of "Survivor Bras" for women like her mom who have had one or both breasts removed due to cancer. As of early today, nearly 90,000 people had signed in support.
Allana's mother, Debbie Barrett, 57, of Saltville, Va., didn't have breast reconstruction after her mastectomy 21 years ago, she says, because her insurance didn't cover it. Since then, she has had to drive 90 minutes from her small southern Virginia town to a specialty store that offers the bras she needs. Mastectomy bras have pockets to hold removable breast-shaped inserts or padding.
"It's always the same plain bra, nothing special. She doesn't get to have that experience of going to a regular store and picking out a pretty bra," says Allana, who lives in Richmond, Va. "So last year when I did a breast cancer walk with my mother and grandmother, I started thinking about doing something about it."
Allana chose Victoria's Secret, she says, because it's a huge company with lots of stores conveniently located across the country. "I've always had a good experience going to them, they have a very helpful staff, and I thought if they could do this, it would have a huge impact on a lot of women's lives."
The vast majority of women age 50 and older don't get reconstructive surgery after a mastectomy, according to a 2011 Columbia University study that looked at more than 100,000 insured women who had a mastectomy between 2000 and 2010. While 42 percent of women under 50 had reconstruction, only 17 percent of women 50 and older opted for it.
Although there are several online sources and some specialty boutiques for mastectomy bras, there are few regular stores that offer them. One exception is Nordstrom department stores' prosthesis program, which offers trained employees who not only will measure women for bra inserts and order them, but the store will also alter a regular bra sold in the lingerie department to become a mastectomy bra.
Although Victoria's Secret had not responded to a request from AARP for a response by late Thursday afternoon, Allana said she was contacted by a Victoria's Secret vice president. The executive, she says, told her she would "relay the information to the right people and get back to me."
Photo: Identity Photogr@phy /flickr