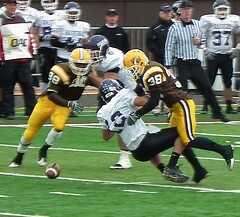 Recently, the New York Times ran another in their series of articles about concussions and football players. Written by George Vecsey, this piece focused on a college football player, Derek Owens, who has joined with other varsity players - three football players and one soccer goalie - in a class action suit that claims the NCAA has been negligent regarding awareness and treatment of brain injuries to athletes.
The article begins with Derek's mom, Teresa, reacting with a mother's horror at watching her son being ferociously tackled, inadvertently yelling, "They've killed him."
I know her pain.
My son, Tyler, was captain of his high school and college football teams. This was because, I believe, he was well-liked. At 6'1" and 165 pounds, he wasn't really the scariest guy to come running at you. But although high school was okay, college was a different story. At Newark Academy I went and saw each game; at Pomona-Pitzer College, I went and saw no games. Instead, my head was always buried in my husband's shoulder, murmuring plaintively after each play, "Is he still alive?" The difference between high school and college teams was massive. And so were the players. I am pretty sure that a number of teams had recruited recent parolees named Buhbuh, and the others had recruited gorillas in football uniforms. I'm telling you, Refrigerator Perry would have been considered a dwarf. At least, that's how it looked to a mom.
So the 4 times Tyler was tackled hard, rendered to lie on the field like a corpse, my husband had to restrain me from running down on the field with 10 father-doctors in the stand, a cold compress and some chicken soup.
In all fairness, Derek Owens had it a lot tougher. Holding on to the punted ball even after the tackler crashed into him, Owens ran to the sideline. It was the last play he ever made. He will never play a contact sport again. Instead of walking onto the field, he is walking into doctors' offices. He is a man in the shadows, dealing with migraine headaches, depression and vague memories. Once an 'A' student, he found it hard to capture the simplest answers and dropped out of school for a semester, his memorization skills shot. He thought concussions were simple: "You get your bell rung. You get smoked. And then you go back in." Now he realizes that it can start with your first concussion - Owens remembers at least five concussions since high school, but he said it was not until August 2011, nearly a year after the terrifying hit on the punt return, that anybody used the phrase "post-concussion syndrome" to describe his condition. He did not realize that there was a strong possibility that these concussions may eventually result in dementia. Owens says he was unaware of the growing public evidence of long-term dementia suffered by former NFL players like John Mackey and Dave Duerson, who recently committed suicide by shooting himself in the chest and willed his intact brain for an autopsy (which showed trauma-induced disease).
For now, Owens is okay. He is back in college. His migraines and depression are being handled medically and are greatly improved. His only contact sport now is holding hands with his girlfriend, Shelby Twedt.
And my son, you ask? Ironically, he is now a guidance counselor and football coach at Loyola Academy in Chicago. Loyola feeds into the Big Ten. This is big business. This year, the team went to state finals. It was broadcast on ESPN. Great, right? Not really, since there are still direct contacts which lead to concussions. The team has the best helmets and equipment made, and still...
Tyler says he is not encouraging his five-year-old son, Gavin, to play football, but I have seen Gavin watch a game with incredible concentration, pretending to be quarterback. He is already on his way. And there are so many good aspects of football, not the least of which is the spirit, the camaraderie. All I'm asking is that this not be a game "to die for."
Photo credit: Erik Daniel Drost on Flickr