Cold-Brewed Iced Coffee: The Hot, Healthy Trend
By Candy Sagon, June 27, 2012 08:00 AM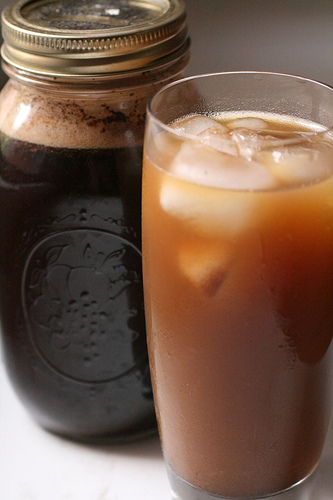 It's the hot new trend among cool summer drinks: Cold-brewed iced coffee that is smoother-tasting and lower in acid so it's easier on your tummy.

Instead of merely pouring hot coffee over ice cubes -- which just gives you diluted, acrid cold coffee -- cold-brewing allows ground coffee to steep for eight to 12 hours in cool water.

You then strain out the grounds and pour the resulting midnight dark, intensely flavorful coffee over ice. Add (optional) milk or cream to taste and voila! A drink that perks you up and cools you down.

Cold-brewed coffee has become so popular, cutting-edge coffee roasters -- Stumptown, La Colombe and Grady's -- are already bottling their own "brews," reports foodrepublic.com.

Need another good reason to enjoy a glass or two? The latest research from the American Heart Association -- announced yesterday -- finds that regular, moderate coffee drinking may significantly reduce a person's risk of heart failure.

Drinking the equivalent of two cups of coffee a day can protect against heart failure when compared to no coffee consumption, said senior study author Murray Mittleman, M.D., director of cardiovascular epidemiology research at Beth Israel Deaconness Medical Center in Boston.

Just don't get carried away, Mittleman cautioned. Excessive coffee drinking -- meaning five to six cups per day -- "has no benefit and may even be dangerous."

Ok, we promise. Only two glasses of cold-brewed coffee a day.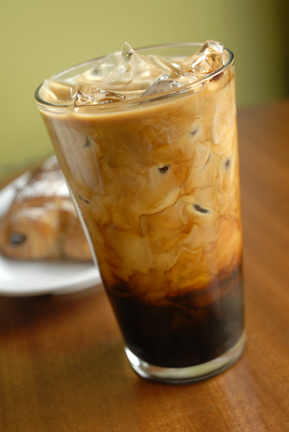 Here's how to make it: You can check out companies like Toddy, Filtron and others that sell gadgets specifically designed for cold brewing, but Ree Drummond on her pioneerwoman.com website offers a pretty easy DIY method with great photographs to show you how.

Here are some other cool ideas to satisfy your summertime coffee craving:

* How about a cold-brewed cappuccino? Try this easy recipe from the Washington Post.

* Make ice cubes from coffee and you'll keep your iced coffee from getting diluted. Add any extra coffee cubes to milk for a refreshing variation.

In other health news:

When our stomach is empty, we crave carbs. The New York Times reports that people who have skipped a meal or fasted overnight are more likely to ignore protein, fats and vegetables and head straight for high-calorie carbohydrates and starches first, according to a new study that revealed some telling details about food choices and the order in which we eat different kinds of foods.

Dole recalls bagged salad in six states. More than 1,000 bags of salad produced by Dole Foods Co have been recalled from stores in Georgia, Kentucky, North Carolina, South Carolina, Tennessee and Virginia because of a risk of listeria, according to Reuters. Dole announced the recall on Friday after a sample of Romaine lettuce tested positive for listeria in North Carolina. The company said in a statement that no illnesses had been reported.

You can learn things in your sleep. Northwestern University researchers are validating procrasti-nappers everywhere - they say a 90-minute nap can actually help in learning a new skill -- at least when that skill is remembering a musical tune, reports CNN.com.

Photo credit: Top photo, courtesy thebittenword.com via flickr; small photo courtesy justatitch.com