Is the Era of Cheap Generic Drugs About to End?
By Candy Sagon, May 29, 2015 07:00 AM
En español | Prices for generic drugs most commonly used by older Americans fell by the smallest percentage since 2006, with 1 in 4 rising in price — some by more than 1,000 percent, according to a new report from AARP's Public Policy Institute (PPI).

The report looked at 2013 price trends for 280 generic prescription medications widely used by those age 50-plus. The majority of these generics saw price decreases, some of them substantial, but the overall decline slowed in 2013 to just 4 percent.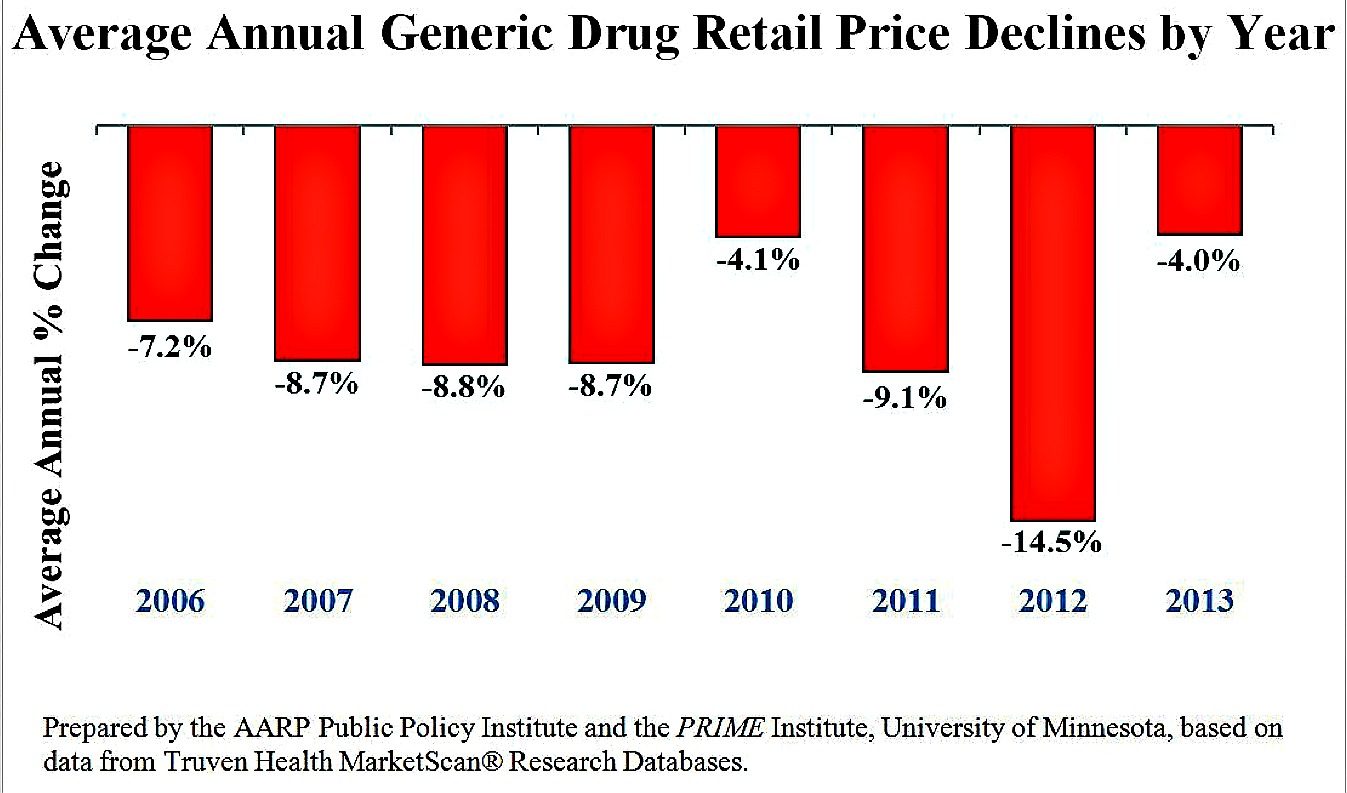 Get the latest tips on staying healthy — AARP Health Newsletter »

However, hefty increases for 75 of those drugs — including 11 that rose more than 30 percent — may be a sign of higher prices to come. The biggest price jumps included the retail price of methotrexate, a cancer drug also used to treat rheumatoid arthritis, which rose more than 200 percent, and the antibiotic doxycycline hyclate, which soared nearly 2,000 percent.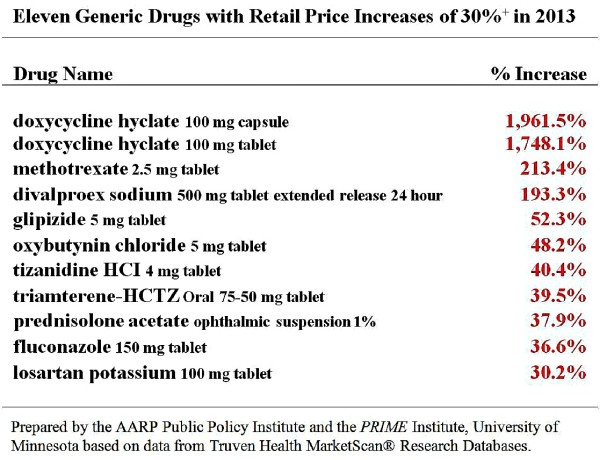 "Declining generic drug prices have helped many Americans' pocketbooks, particularly older adults on fixed incomes," said Debra Whitman, AARP's executive vice president for policy. "Unfortunately, recent trends indicate that we may not be able to rely on these savings forever."

The rate of generic price decline has been slowing for the past decade, the report found, "indicating that the era of consistent generic drug price decreases may be coming to an end." Prices have gone up for some classes of drugs because of reduced competition, manufacturing quality problems causing shortages, and fewer big brand name medicines going off patent.

Get discounts on prescriptions, health exams, eye care and more — AARP Member Advantages »

Nearly two-thirds of older Americans use three or more prescription drugs a year, the report notes. Traditionally, generics have helped both consumers and insurers save a substantial amount of money. For example, those who used three generic drugs for a chronic condition in 2013 would have paid an average annual cost of $849, compared with $8,880 for three brand name medications.

But breakthrough brand name drugs for cancer, hepatitis C and other conditions more common among older adults cost around $100,000 for a year or course of treatment, the Associated Press reported, adding to patients' financial burden.

"As more and more new brand name drugs and biologic drugs enter the market with extremely high prices, it will be more important than ever that people have generic medications to help with their budgets," said Leigh Purvis, PPI director of health services research and coauthor of the report.

Also of Interest



See the AARP home page for deals, savings tips, trivia and more.