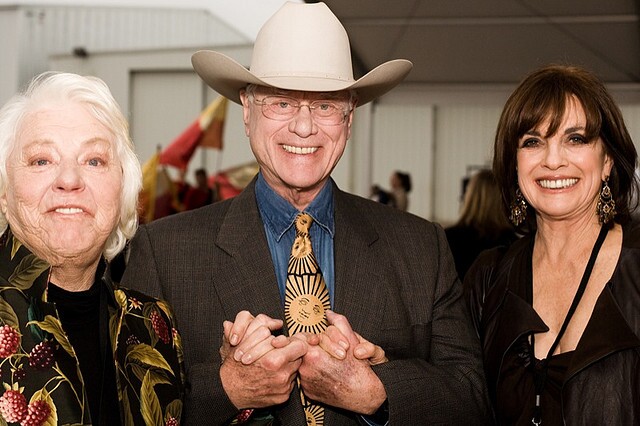 A shameless rogue with a conscience that must have been surgically removed at birth, "Dallas" character JR Ewing was envied, loved, despised, almost killed, and yet he was impossible to resist.

No one could have played him with such magnificent relish - an irresistible villain - like Larry Hagman. This was a man who embraced life with a joyous sense of abandon: he rode a Harley-Davidson wearing a chicken suit, made love flying a plane, put bourbon on his cornflakes.

The major difference between JR and Larry was that everyone loved Larry.

The viewing audience was obsessed with JR. When, in a brilliant season cliff-hanger, JR was shot, the world was fixated on the answer to "Who shot JR?" The question was featured on t-shirts, key chains, and news shows, as bookies took bets on the answer. Not to be outdone, during the Presidential election, the Republicans even accused the Democrats of shooting JR. On November 21, 1980, people in 57 countries tuned in to find out the answer.

Larry Hagman loved the character, the fame, the absurdity of it all. But what he loved most in life was his wife, Maj. He met Maj Axelsson, a Swedish dress designer, when he was in London. They married in 1954. 58 years wedded in Hollywood - who ever heard if that. They were a good bet for inclusion in the Guinness Book of World Records.

And it was a good marriage - a deeply loving couple. So when Maj was diagnosed with Alzheimer's, Hagman was devastated. The woman who had made a happy home for him and their two children, who went everywhere with him (Maj was no fool - she saw women throw themselves at her husband), began to descend into the hideous, unforgiving disease that currently has a choke-hold on 5.4 million people. Alzheimer's does not give dispensations for the rich and famous.

Like any other caretaker, Larry knew Maj needed constant care. When it became too much for him to handle alone, he sold their mansion and moved Maj and a full-time staff of nurses to a care facility in Santa Monica near the ocean. Hagman bought an apartment nearby so he could be close and visit her regularly (this is when it pays off to have funds). But no matter how much money he had, nothing could reverse her situation.

"I miss her dreadfully," Hagman said in an interview in 2011. A nurse told him that Maj forgets he has been there as soon as he leaves. It devastated him. "She is the love of my life."

No one expected JR Ewing to be blindsided by cancer. But Larry Hagman was. And yet, on his deathbed, he talked about taking care of Maj.

Larry Hagman's favorite JR Ewing line was, "Once you get rid of integrity, the rest is a piece of cake." Maybe that was because to say that line convincingly, Hagman showed great acting skill.

Although cancer is the official reason for Hagman's death, friends say it was really the result of a broken heart from losing Maj.

Photo Credit: charlie llewellin on Flickr.