Juicer vs. Blender: Which Is Healthier For You?
By Candy Sagon, August 2, 2012 08:00 AM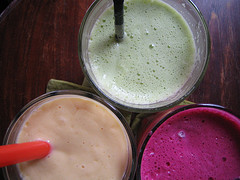 Should you boost your health with a creamy fruit smoothie you whip up in your blender?

Or should you join the juicing craze with a mega-juicer that extracts just the vitamin-rich liquid from fruits and vegetables?

And what about a juice cleanse, where you drink only juice for several days to lose weight, detoxify or just feel extra-virtuous? This extreme health fad has recently spread from celebs to the corporate world.

Group juice cleanses -- in which co-workers pledge to detoxify together -- have become popular in many offices, the New York Times reports. Companies from Citigroup to Shape magazine have used juice fasts for corporate team-bonding.

Of course, juicing for health is not exactly new. Many older adults will remember fitness buff Jack LaLanne, who tirelessly promoted juicing in the 1970s and 80s.

And anything that helps us eat more fruit and vegetables is a good thing -- those foods can improve heart health and lower the risk of dementia.

So what's the difference between drinking a blended smoothie or an extracted juice blend?

Basically, it's fiber, as newly converted juice fan Bob Carden explained recently in the Washington Post: "A blender pulverizes veggies and fruits, and makes for a thick, fiber-filled drink. A juicer separates, so all you get is pure juice."

Juicers filter out the pulp and skin. They also get rid of the bitter stuff, like seeds and stems, which is why vegetables taste milder when they're juiced, Carden notes.

New Orleans dietitian Molly Kimball, writing in the Times-Picayune, says juicing can be a good way to consume veggies we normally might not like, such as beets and kale, which are less noticeable when juiced along with fruits.

Bottom line, Kimball writes:

"If you're looking for a nutrient boost in addition to your usual meals and snacks, then juicing is likely the way to go. But if you're looking for a nutrient-packed meal replacement, you might do better with blended smoothies that provide a combination of produce, fiber, protein and healthful fats."

As for juice fasts, USAToday points out that they can be dangerous for some people with health problems.

Those who shouldn't do a juice fast or cleanse include diabetics, those undergoing chemotherapy, those struggling with nutritional deficiencies such as iron depletion, and those with kidney disease.

In other health news:

Exercise may ease depression in heart failure patients. Heart failure can take a heavy psychological toll, with many patients developing symptoms of depression, the New York Times reports. But a new study suggests that an exercise plan can ease the melancholy, creating improvements in mood that are comparable to the effects seen with medication.

Gout risk goes up as waistline expands. The heavier you are, the greater your odds of getting the painful arthritic condition gout - no matter your gender or race, a new U.S. study finds.

Caffeine may provide some Parkinson's relief. A new, small study found people in their mid-60s with Parkinson's disease who took caffeine pills saw slight but noticeable improvements in movement problems related to the condition, Reuters reports.

Photo credit: Courtesy gurms via flickr.com