Knee Replacements Booming, But Lack Oversight, Study Says
By Candy Sagon , March 06, 2012 08:00 AM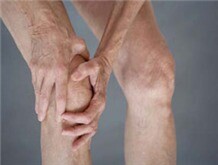 More Americans than ever are getting their knees replaced.
The number of knee replacement surgeries has doubled in the last decade, with a rising number of surgeries being performed on people in their 50s and 60s, according to the first national estimate of the procedure by the American Academy of Orthopaedic Surgeons.
Additionally, a study of Medicare records found that older knee replacement patients become healthier and more active, the New York Times reports. Three years after being diagnosed with osteoarthritis of the knee, those who opted for knee replacement had a 11 percent lower risk of heart failure; after seven years, their risk of dying for any reason was 50 percent lower.
But an international team of researchers, publishing online Monday in the medical journal The Lancet, say there needs to be greater oversight of the safety and effectiveness of the numerous types of implants on the market, plus better patient follow-up afterwards.
They also wrote that surgeons need better guidelines about which patients should undergo the operation. Some patients get knee replacement despite having only mild pain and stiffness beforehand.
Orthopedic surgeon Andrew Carr, a joint replacement expert at the University of Oxford and one of the co-authors, said that tracking patients' progress, through national registeries, is critical for uncovering problems with specific implants -- such as the recent study revealing that newer metal hip implants were no better than older, plastic ones.
Calling knee replacement surgery "one of the outstanding success stories of modern medicine," Carr still believes more resources should be spent on new arthritis treatment strategies that could help younger patients avoid the need for major surgery.
Today's metal-and-plastic implants can last up to 20 years, but those who get them at a younger age will probably have to have them replaced. And the younger the patient, the higher the chance of revision (a replacement being redone). For example, the chance of revision is 2.5 times higher in patients under-65 than in those over-65, Carr and his colleagues wrote in their study.
While advances in implant technology and improvements in surgical techniques and rehabilitation have made the operation more successful, patients still risk infection and scar tissue after the procedure. The surgery also requires several days in the hospital, weeks of rehab, and costs about $40,000, according to ABC News.
According to the newest figures from the American Academy of Orthopaedic Surgeons:
* More than 600,000 Americans have knee replacement surgery annually. An estimated 4.5 million Americans currently live with total knee replacement in at least one knee.
* Nearly 5 percent of Americans age 50 and older have had knee replacement surgery.
* More women than men have had the procedure (5.3 percent of women older than 50, versus 4.1 percent of men).
* Nearly 10 percent of Americans age 80 and older have had at least one knee placed.
* A rising number of patients in their 50s and 60s are getting knee replacement surgery.
In other health news:
Speaking of arthritis, signs of it in pets. Millions of Americans are living with the pain of osteoarthritis, and so are millions of pets. Veterinarians say it's one of the most under-diagnosed conditions, but there are warning signs owners can watch out for, according to ABC News.
Doctors with computers order more tests, not fewer. It's been argued that health care costs can be cut if doctors use electronic medical records and other technology to save money, but a study reported in the Washington Post suggests that doctors with easy computer access to test results order more, not fewer, x-rays, CT scans and MRIs.
Test your sodium smarts: Some surprising sources. A USA Today quiz tests your knowledge of the surprising salt content in everyday foods, including bread. A recent government study found that bread is the number one source of sodium in American diets.
Photo credit: Biethet.com