Slow Cooking: Maidu Indian Style
By Carole Carson, August 9, 2012 10:17 AM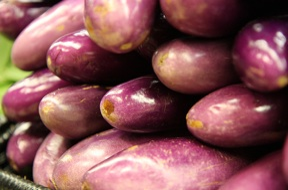 Fast food is frequently blamed for the rise in obesity across the nation. Although a causal relationship between fast food and surplus pounds in adults has yet to be established, one study clearly linked the rise of childhood obesity with the rise in children's fast-food consumption. According to the study of 6,212 children, one out of every three children eats fast food on a daily basis, and the trend "likely packs on about six extra pounds per child per year."

Would eating slow food "created with care from healthy plants and animals" help families trim down? For the answer to that question, I turned to my friend Mary Wood.

Our connection goes back nearly 20 years and is based on a common creative streak (singing, writing, cooking-and, in Mary's case, quilling). When my husband, Dick, and I entertained Mary and her husband, Jerry, for dinner recently, Mary brought a special treat-four small brown muffins. As I later learned, these were not your typical muffins.

See also: Play 'Healthy Living' trivia for a chance to win a trip for two at the Red Mountain Resort in Utah!

I was intrigued by the unusual flavor-best described as a hint of chocolate mixed with pumpkin-and was curious about the creative concoction. As the unofficial family historian, Mary has written about her family, and she has penned children's stories, Christmas plays and dinner theater productions. So in response to my curiosity, Mary agreed to write the story of her slow-cooking adventure:

A majestic oak tree, growing near the back deck, was one of many reasons we recently purchased a home near the little gold rush town of Rough and Ready. It was winter when we moved, and the branches of the tree were bare. As spring brought new leaves, we felt we were in a cathedral, as we looked up to watch the many birds populating its branches.
As autumn arrived, the tree's acorns ripened and began to fall by the thousands. For several weeks, I always wore a hat to keep from getting bonked on the head when I walked under it. From an online article, I learned that a large oak tree can drop about a thousand pounds of acorns, and we have a very large tree.

The Maidu, Native Americans who had inhabited this area, used acorns as a staple in their diet. Thinking about that, I decided if they could eat them, so could we. More research on the Internet yielded several articles about processing acorns, and I adapted their suggestions to my needs.

Gathering a bowlful of about a hundred acorns was the easy part, as we had thousands on the ground. I discarded any with small holes because that indicated the presence of a worm inside. The shell is a bit like thin plastic, so a regular nut cracker doesn't work well, but a hammer easily cracked them.

After shelling (and keeping an eye out for worms), they went in a pot, were covered with hot water, and brought to a boil. This water was drained and replaced by more hot water, and the process was repeated three more times, which leached out the tannic acid from the acorns. Drying was the next process. We have a free-standing gas stove, and a pan of acorns placed on top dried in about 24 hours.

I wanted to grind the nuts into flour and knew the Maidu women made use of large grinding rocks that can be found in many places in the Sierra foothills. We haven't found one on the property, and I didn't particularly want rock dust in my flour, so I looked for another method.

One Internet source suggested using a coffee grinder, but I learned dried acorns are harder than coffee. (I probably needed a new coffee grinder anyway!) My next experiment was our old meat grinder. By using the finest blade, I was able to turn out fairly fine meal. The job was time consuming because only one or two acorns can be fed into the grinder at a time.

I sifted the acorn meal with a flour sifter, and what didn't go through was reground. The final product was about a cup and a half of acorn flour. The following is a recipe adapted to make use of it. For every cup of flour in the original recipe, I used one-third cup acorn flour and two-thirds cup all-purpose flour. I imagine this could be done in any recipe. (I stored the leftover acorn flour in the freezer to prevent it from becoming rancid.)

As I gathered and shelled acorns under our tree, it was easy to imagine Maidu women in the same place, doing the same thing many years ago. It gave me a great feeling of kinship with the Native Americans who traveled through this area and perhaps gathered acorns from a small tree, which has now grown into our mighty heritage oak.

Banana Acorn Muffins

Makes 12 muffins

1 1/3 cups all-purpose flour
2/3 cup acorn flour
1/2 cup packed brown sugar
1/2 cup granulated sugar
1 teaspoon baking soda
1/2 teaspoon salt
1/2 cup butter or margarine, softened
1/4 cup sour milk* or buttermilk
2 eggs
1 cup mashed bananas (2 medium)
1 teaspoon vanilla
1/2 cup chopped walnuts (optional)

Grease a muffin tin or use paper inserts. In a large bowl, mix all of the ingredients except the walnuts for 1 minute with an electric mixer. Add the chopped nuts and fill the muffin cups two-thirds full. Bake at 375 degrees for 23 minutes, or until done.

*Mix 2 teaspoons vinegar plus enough milk to equal 1/4 cup. Let stand 5 minutes before adding to the other ingredients.

This recipe for Banana Acorn Muffins places Mary squarely in the slowest of slow-cooking schools. If we had to go to all of this work every time we wanted to make muffins, we probably would drop a pound or two. Do you agree?

Image credit: Public Domain Photos on Flickr.