New Guidelines for Diagnosing Alzheimer's Disease
By Kate Hays, April 20, 2011 07:36 PM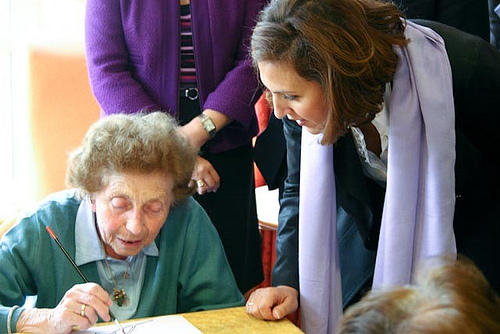 A few weeks ago, I was sitting at the table at the Alzheimer's Association annual Gala. Through humor and stories, emcee David Hyde Pierce steered a cadre of Alzheimer's advocates sharing statistics, pleas for more research funds, and even Alzheimer's protest songs.

But the moment I remember best? One speaker said: "statistically speaking, one person at each of your tables already has Alzheimer's disease." Our table looked around at each other. You? Me? Though I'm young, I suddenly wondered if my family history of the disease had gifted me a new sort of scarlet letter, unknown to me, percolating in my brain.

This week, to the excitement of the Alzheimer's community, new guidelines have been released about Alzheimer's diagnosis for the first time since 1984. They include changing the definition of the stages of Alzheimer's, as well as defining certain biomarkers that may indicate Alzheimer's onset. Read more about the new guidelines here.

Will this change the process of diagnosis? In the short term, no. But long term, watching Alzheimer's patients well before their symptoms are severe will give researchers more data to find a cure. And that is good news.

Disclaimer: In addition to supporting My Health at AARP, Kate also works with the team at UsAgainstAlzheimer's.

Photo credit: Ministère du Travail, de l'Emploi et de la Santé via flickr.