New Painkiller Warning: What Does It Mean For You?
By Candy Sagon, July 20, 2015 07:36 AM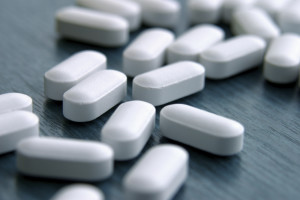 Ten years ago, the Food and Drug Administration (FDA) warned that the widely used nonaspirin painkillers ibuprofen and naproxen — including over-the-counter brands such as Advil, Motrin and Aleve — may increase the risk of heart attack and stroke.

But new evidence has convinced the agency that the warning on these nonsteroidal anti-inflammatory drugs (NSAIDs) needs to be tougher. The FDA is now strengthening the wording to say that NSAIDs increase the chance of a heart attack or stroke, even when used short term.

This seemingly slight change in wording — from saying that NSAIDs "may" cause an increase in risk to saying they do cause one — has been confusing to many patients, doctors say. Why the change?

The FDA says the risks from these drugs are greater than originally believed, especially in the higher prescription doses and if consumers inadvertently take too much of the over-the-counter medicines. Now the FDA will require manufacturers of prescription NSAIDs to update their labels with more specific information about heart attack and stroke risks, and will ask makers of over-the-counter NSAIDs to update the risk information in their Drug Facts labeling.

The revised warning does not apply to aspirin.

The new warning will point out that an increased risk can occur even within the first few weeks of taking an NSAID, and that the risk might rise with high doses taken for an extended period of time. Those with a history of heart problems are at the highest risk of problems, the agency said in an announcement.

Here are some answers to frequently asked questions.

Should I stop taking NSAIDs for pain relief?

Most people who occasionally take ibuprofen (Advil, Motrin) or naproxen (Aleve) for infrequent headaches or pain don't have to worry, as long as they follow the dosage directions on the bottle, Richard Chazal, M.D., president-elect of the American College of Cardiology, told HealthDay.

Cleveland Clinic cardiologist Steven Nissen agreed: "If you are someone with a low risk of heart disease, and you have back pain or arthritis pain and need these drugs to function, it's reasonable to take them."

Even the FDA reassured consumers that they can still take the drugs, but they should stick to "the lowest effective dose for the shortest amount of time possible," said Karen Mahoney, M.D., deputy director of the FDA's Division of Nonprescription Drug Products.

Then who should be worried about taking NSAIDs?

Those with high blood pressure or heart disease, particularly those who have recently had a heart attack or cardiac bypass surgery, are at the highest risk, the FDA said.

Those with chronic pain problems who take NSAIDs on a regular basis, especially at high doses, should be concerned as well. The risk increases even within the first few weeks of taking the drugs, the FDA warned, so taking them on a short-term basis is also worrisome.

Those older than 65 with a history of heart disease should be particularly careful, experts said.

Are some NSAIDs less risky than others?

Previous studies had suggested that naproxen might be a safer choice than other NSAIDs, but an FDA advisory panel that reviewed new research found the evidence too weak to tell for certain if one type was better than another, Sanjay Kaul, a panel member and cardiologist at Cedars-Sinai Medical Center in Los Angeles, told the New York Times.

Kaul said that more conclusive answers may come from a large ongoing trial that is comparing the rate of heart problems among patients with high cardiovascular risk who are taking ibuprofen (Motrin IB), naproxen (Aleve) or celecoxib (Celebrex).

How much does the risk of heart problems increase?

The estimates varied widely in the studies the panel reviewed, depending on dose and the drug tested, but panel member Peter Wilson, M.D., a professor of medicine and public health at Emory University in Atlanta, gave the Times this rule of thumb:

Over-the-counter medications, which have the lowest doses, probably increase risk by about 10 percent.
Low-dose prescription medications are likely to increase the risk by about 20 percent.
Higher-dose prescription medications may increase the risk by about 50 percent.


Get discounts on prescriptions, health exams, eye care and more — AARP Member Advantages »

So what should I do?

Be careful not to take more than one product that contains an NSAID at a time, said the FDA's Mahoney. Some over-the-counter cough and cold medications contain NSAIDs, so check the ingredients.

If you take low-dose aspirin for protection against heart attack and stroke, be aware that some NSAIDs, including ibuprofen and naproxen, can interfere with that protective effect.

Take the lowest effective dose, and limit the length of time you take the drug.

Talk to your doctor or health care provider about your risks.

Photo: Looby/iStock

Also of Interest

See the AARP home page for deals, savings tips, trivia and more.