Painkiller Death Rate Highest Among Older Adults
By Candy Sagon, September 16, 2014 03:18 PM
The rate of overdose deaths from powerful painkillers has nearly quadrupled since 1999, but new government figures show that since 2006, the rate of increase has finally slowed — except among older adults.

According to a newly released Centers for Disease Control and Prevention (CDC) report, the rate of fatal overdoses from prescription painkillers is still highest among those ages 45 to 54, with the fastest increase in deaths over the past decade among those 55 to 64.

In 2011, the last year included in the government analysis, deaths from drug poisoning among all age groups hit 41,000, with nearly 17,000 from prescription painkiller overdoses.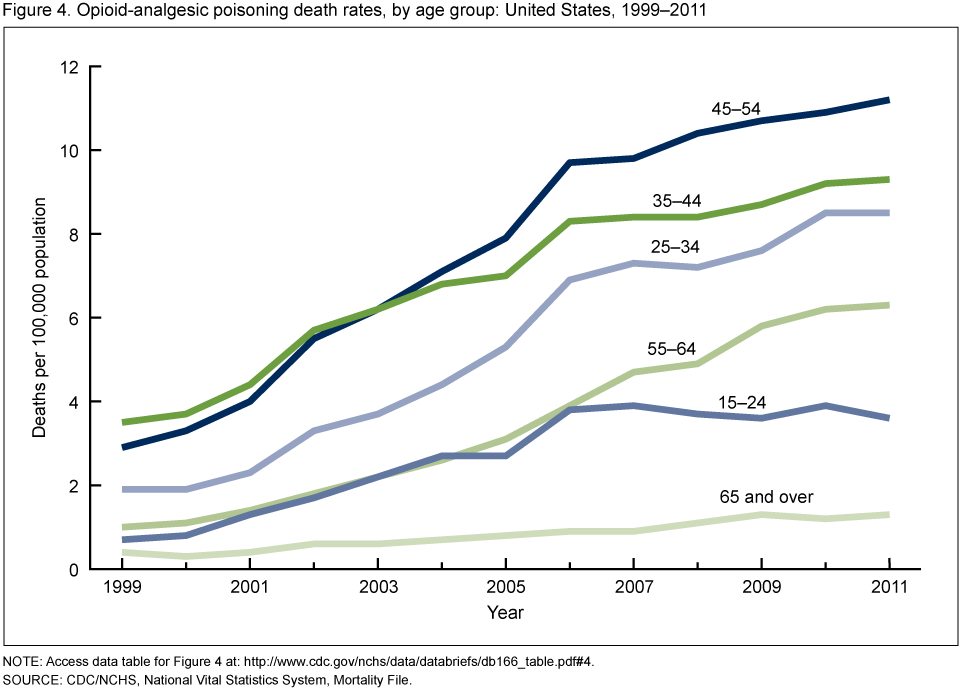 >> Giving a Hug and Other 60-Second Health Boosters

In a bit of good news, the report did find that before 2006, the rate of fatal painkiller overdoses had been increasing by 18 percent a year; since then, it's dropped to 3 percent a year. CDC researchers believe the slowdown is mainly due to fewer deaths from methadone, a synthetic opioid prescribed for pain relief and to help recovering addicts stay off heroin and other narcotics.

Even so, the number of deaths from widely prescribed opioid painkillers, like OxyContin and Vicodin, have continued to rise steadily. Anti-anxiety drugs, like Xanax and Valium, also have had a growing role. They were involved in 31 percent of painkiller deaths in 2011, up from 13 percent in 1999.

Despite what the CDC stats show, Janina Kean, a substance abuse expert and CEO of High Watch Recovery Center in Kent, Conn., said she is still seeing "a great increase" in painkiller addiction among her patients, who range in age from 18 to 85.

>> Get discounts on health services with your AARP Member Advantages.

Although she hopes that new restrictions on prescribing narcotic painkillers will help reduce abuse of these drugs, she says treatment for addiction still remains a national problem.

"We're in a crisis. We have never really tended appropriately in this country to addiction," Kean said in an interview. While the number of Americans addicted to drugs and alcohol is nearly 24 million, "only 11 percent get treatment."

Image courtesy CDC/NCHS, National Vital Statistics System, Mortality File



Also of Interest



See the AARP home page for deals, savings tips, trivia and more