Return of the Tourniquet: A Lifesaver in Boston
By Candy Sagon , April 19, 2013 08:25 AM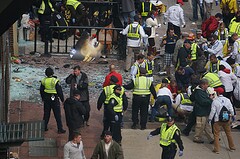 The trusty tourniquet - used since Roman times to stem blood loss - had only a decade ago been dismissed as being risky and ineffective. But when people lay bleeding in the aftermath of the Boston Marathon bombings, it was this simple device that helped save lives.
The Associated Press reports that rescuers used belts, shirts and other materials to quickly tie bleeding limbs to prevent major blood loss, shock and death. Doctors at Boston-area hospitals said the quick action no doubt saved many lives.
In one case a runner who was also an Army colonel crossed the finish line, saw the chaos and peeled off his Team Red, White & Blue T-shirt to tie as a tourniquet on the limb of a bombing victim, according to the Washington Post.
What's ironic, notes the Associated Press, is that just a decade ago, using a tourniquet was considered controversial.

"Some people saw them as lifesaving, and others said they were the instrument of the devil," John F. Kragh Jr., M.D., an orthopedic surgeon with the U.S. Army's Institute of Surgical Research in San Antonio,Texas, told the Associated Press.

Join the Discussion: Is there a common denominator connecting terrorist acts around the world?
There had been controversy, as recently as the early 2000s, that some tourniquets could do more harm than good, cutting off blood and oxygen to limbs and resulting in amputations.
Tourniquets were often shunned during the Vietnam War because of this fear. But that's because tourniquets often were placed too high above the injury, leading to loss of tissue that could have been saved, medical officials said.
By 2009 a study by Kragh and others concluded that tourniquets were clear lifesavers, increasing survival chances by 90 percent. Tourniquets are now routinely issued to soldiers. Boston ambulances had begun carrying tourniquets as standard equipment in recent years as well, and they proved to be crucial on Monday, hospital officials said.
Only a few weeks ago, reported the New Republic, a group of law enforcement officials and surgeons published a report on how to respond to mass-casualty events such as the shooting in Newtown, Conn. Its primary conclusion: The number one cause of preventable death in these situations is blood loss, and the best way to stop blood loss is to properly apply a tourniquet.
Here's what you need to know: In the case of severe wounds, where applying continuous pressure hasn't stopped the bleeding, use a tourniquet that's at least 1 1/2 inches wide, if possible. Place 2 to 4 inches from the wound, pull and tie very tightly to properly shut off blood flow.
Photo: hahatango /flickr
Also of Interest

Join AARP: Savings, resources and news for your well-being
See the AARP home page for deals, savings tips, trivia and more