Salt Shake-Up: Low-Salt Push May Be Unhealthy
By Candy Sagon , May 17, 2013 08:02 AM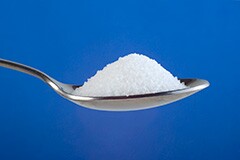 For years we've been told to slash our sodium consumption to protect against strokes, heart attacks and high blood pressure. But now an influential committee says there's no scientific evidence that a very low-salt diet cuts the risk of heart disease.
In fact, the new Institute of Medicine report says that cutting sodium to 1,500 milligrams (mg) daily - the current government recommendation for older adults (ages 51 and up), African Americans and those with diabetes, high blood pressure and kidney disease - can actually increase the risk for heart attacks and stroke.
The committee of experts, which was convened at the request of the Centers for Disease Control and Prevention, looked at the most recent research and concluded there's no reason to reduce sodium consumption lower than 2,300 mg daily (about a teaspoon of salt), the general level the government recommends for most Americans.
"As you go below the 2,300 mark, there is an absence of data in terms of benefit," Brian L. Strom, M.D., chairman of the committee and a professor of public health and preventive medicine at the University of Pennsylvania, told the New York Times. He also noted that there's some evidence that a lower level can increase heart attacks and risk of death.
Some prominent health organizations, including the American Heart Association, have taken a tougher stance, urging all Americans to reduce their sodium intake to the lower 1,500-mg level.
In a statement calling the committee report "incomplete," the heart group said it wasn't changing its recommendation. The group's chief executive, Nancy Brown, said that "well-established evidence ... links too much sodium to high blood pressure and heart disease."
Most Americans exceed all recommended levels, consuming an average 3,400 mg daily, most of it from processed and restaurant food.
A separate report published Monday in JAMA Internal Medicine, by researchers at Northwestern University and the Center for Science in the Public Interest, found that sodium levels in processed foods have declined by 3.5 percent, but they rose by 2.6 percent at fast-food restaurants, the Wall Street Journal reported.
The Institute of Medicine said people with very high sodium intake would benefit from reducing it, but the report didn't recommend a specific amount to consume.
Current government recommendations for sodium are based on a 2005 Institute of Medicine report that said consuming between 1,500 and 2,300 mg daily will not raise blood pressure.
Photo: Colin McKie/Istockphoto