No One Disabled in the Dining Room?
By Candy Sagon, February 13, 2012 08:00 AM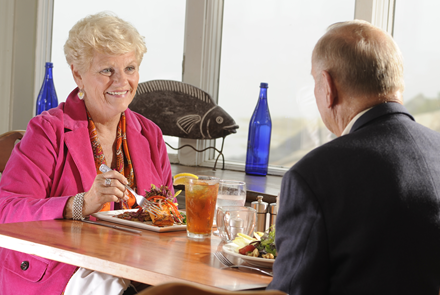 Nothing like a disabled person to ruin your appetite.

Or so it seems among some of the upscale retirement communities around the country, where the main dining rooms has been declared off-limits to their residents who are in poor health or disabled.

The New York Times reports that several of these continuing care retirement communities, that include assisted living or nursing care along with independent-living apartments, have enacted policies that bar their sicker residents from eating in the main dining hall with the independent apartment folks.

In the case of one posh Norfolk, Va., retirement community, those in assisted living or nursing care were not only banned from the dining room, they were also barred from community events like the Fourth of July celebration.

Even married couples living in different parts of the facility (one in assisted care, the other living independently, for example), found they couldn't dine together in the regular dining room; they had to use the smaller assisted living dining room.

As the son of one man put it, "I can take him to any restaurant in Norfolk or in the state of Virginia, except the one in the building he paid $600,000 to move into."

Whether these retirement communities can deny access to certain residents is a controversial issue that has arisen around the country, said Susan Silverstein, an AARP senior attorney interviewed for the story.

Lawsuits have been brought against some places on the grounds that the policy violates the federal Americans With Disabilities Act, the Fair Housing Act, and some state laws.

"You don't bar people simply because they have a physical or mental impairment that doesn't interfere with other users or require additional services," Silverstein told the Times.

But the growing popularity of these of all-in-one complexes, where residents can gradually shift to higher levels of care, increases the potential for these questions to arise.

There's also some suspicion on the part of residents that management feels a dining room devoid of the disabled looks better to potential customers.

But healthy residents have also complained that some of their impaired neighbors pose a safety risk, behave inappropriately, or disturb the "ambience of fine dining," as one resident said.

Others see it differently. "We've been excommunicated," said one 83-year-old assisted living resident. "I thought segregation ended in 1954."

In other health news:

Whoa. Cake as part of a balanced breakfast? Carbs and protein eaten at breakfast may keep us full throughout the day, plus allow for some sweets to stem cravings for these foods, according to a new Israeli study that involved obese participants allowed to have a small "dessert" item along with their healthy breakfast. Those allowed a sweet item were better able to stick to the diet and continue to lose weight than those who weren't. Some dietiticans, however, think this is plain crazy.

Alzheimer's families clamor for skin cancer drug. In the wake of research suggesting a skin-cancer drug may have benefits in treating Alzheimer's disease, physicians and advocacy groups are getting a flurry of calls from patients seeking to use the drug off-label, the Wall St. Journal reports. Researchers announced last week that mice in the early stage of Alzheimer's disease had some of their brain abnormalities reversed and their declining mental function restored when they were given low doses of this rarely used cancer drug, bexarotene.

Want to downsize that order? When people were asked if they wanted to downsize portions of their side dishes at a fast food restaurant, as many as a third opted for the smaller - and thus lower calorie - option, according to the report published in the journal Health Affairs.

Photo credit: thecedarsportland.org