Our Snack Habit: One-Third Of Daily Calories Are From Junk Food
By Candy Sagon , March 15, 2012 08:00 AM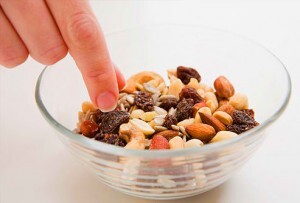 Americans are addicted to snacking.
That's the bottom line from a new government report looking at the snacking habits of more than 5,000 adults aged 20 and older.
Researchers with the USDA's Food Surveys Research Group interviewed the participants as part of an ongoing national survey called "What We Eat in America." The results from those surveys are reported in two-year intervals.
The survey found that a sizable chunk of our daily calories come from serial snacking during the day, mostly on processed junk food high in fat and added sugars.
This is not to say that all snacking is bad. For older adults who may not be getting adequate amounts of protein and nutrients in their diet, nutritious snacks can play an important role in making sure they eat enough healthy food, studies of people 65 and older have shown.
However, for overweight adults for whom salty, sugary junk food is their dietary downfall, switching out those empty calories for more nutritious choices -- like fresh fruit -- is an easy way to cut back on calories while increasing important nutrients.
Here's the results from the federal survey:
*One-third of our daily calories come from snacks with little or no nutrients. Empty calories from snacks account for about 32 percent of daily calories consumed by women, and about 31 percent of the daily calories consumed by men.
*The average intake of empty calories for men surveyed was 923 calories per day. In other words, men, on average, are eating two to three times their limit in calories from solid fats and added sugars (caloric sweeteners added to foods during processing).
*For women, the average intake of empty calories was 624 calories daily. Women, on average, are consuming almost two to four times their limit of calories from fats and added sugars.
*Snacking in the U.S. has increased in recent decades, while (not surprisingly) percentages of the population who are overweight and obese and have also increased.
*The one bit of good news: The researchers found that one-third of Americans' daily fruit intake -- which is still lower than recommended -- is through snacking.
In other health news:
Walking can cut obesity gene effect in half.  Watching too much TV can worsen your genetic tendency towards obesity, but you can cut the effect in half by walking briskly for an hour a day, according to new research from the American Heart Association. Watching TV for two hours each day increases the effect of certain obesity-related genes by as much as 25 percent, the researchers estimate.
Antipsychotic drugs being given to those without mental illness. Powerful antipsychotic drugs are being given to a wide range of patients, from toddlers to nursing home residents, who do not have mental illness, the Washington Post reports. In one nursing home, antipsychotics were given to residents who refused to go to the dining room.
Three big brands of jerky treats for pets tied to illness in dogs. Stumped by mysterious illnesses in at least 600 dogs in the U.S., federal health officials have turned to consumers for help investigating problems possibly tied to chicken jerky pet treats made in China, according to MSNBC.com. Consumer complaints show that Waggin' Train or Canyon Creek Ranch jerky treats and Milo's Kitchen Home-style Dog Treats, are among those associated with kidney failure and other serious ailments in dogs.
Is Guinness really good for you? Even without a calendar, you can tell it's nearly St. Patrick's Day just by seeing all the recipes for Guinness chocolate cupcakes and Guinness chocolate cake. But is the dark Irish beer with the slogan, "Guinness is good for you," telling the truth? Smithsonian magazine's blog investigated a few years back. Did you know that University of Wisconsin researchers fed Guinness to dogs? And no, I don't know if they were Irish setters.
Photo credit: highproteinsnacks.org