Depressed? Help Could Be A Phone Call Away
By Candy Sagon, June 6, 2012 08:00 AM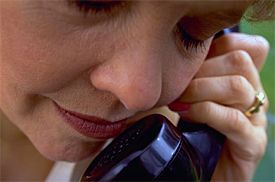 Talking with a therapist on the phone may be more helpful for depressed patients than coming to a therapist's office.

That's the finding of a new Northwestern University medical school study that found that patients with depression who got therapy over the phone were more likely to complete 18 weeks of treatment than those who had face-to-face sessions.

"Now therapists can make house calls," said study author David Mohr, M.D., professor of preventive medicine at Northwestern's Feinberg School of Medicine.

The study, published today in the Journal of the American Medical Association, is the first large trial to compare the benefits of telephone therapy to the traditional visit to the therapist's couch.

The study involved 325 primary care patients with major depressive disorder. Half received face-to-face therapy and half got telephone therapy. More of the in-person group -- 53 patients -- dropped out compared to 34 patients in the telephone-based group, Reuters reported.

Patients in both therapy groups showed equal improvement in their depression when treatment ended. However, six months later, that improvement had decreased slightly more with the phone group than with the in-person group -- a result researchers downplayed in significance compared to the positive outcome of having more patients stick with therapy.

Phone therapy has been growing in popularity among therapists. An estimated 85 percent of psychologists offer it to help patients who find it difficult to come to the office because of transportation, time or other challenges.

By showing that phone therapy can be effective, Mohr hopes the study will encourage insurance providers, including Medicare, to cover telephone therapy sessions, which many companies currently don't cover.

"Many people can't get to a therapist's office, but they want to talk to someone," Mohr said. Telephone therapy would be particularly helpful for disabled people or those who live where care is unavailable, such as in rural areas, he noted.

In other health news:

Daily low-dose aspirin risks outweigh benefits for many. A new Italian study suggests that unless you're at high risk for cardiovascular disease, taking a daily low-dose aspirin can significantly increase your chance of bleeding in the intestinal tract or the brain. In more than 370,000 adults over age 30, those on daily aspirin had a 55 percent relative increase in the risk of stomach bleeding, which translates to an additional two cases per 1,000 people treated, and a 54 percent increased relative risk of cerebral bleeding, CBS News reports.

New blood test for early-stage breast cancer. A simple blood test may help gauge prognosis and tailor treatments for women who have been diagnosed with early stage breast cancer, according to CBS News. The test measures how many tumor cells are circulating in the blood.

Waist size signals diabetes risk. CNN reports on a new study that finds that having a large waist is an important early warning sign for diabetes, one that in some cases may be just as significant as body mass index (BMI), if not more so. Waist size, which provides a rough measure of a person's body type, may be especially useful for identifying high-risk people who are overweight but not obese, the study suggests.

Hospitals nationwide adding palliative care programs. Hospitals across the country have been rapidly adding programs in palliative care - which focuses on treating pain, minimizing side effects, coordinating care among doctors and ensuring the concerns of seriously ill patients and their families are addressed, the Associated Press reports. The field has expanded so much that a majority of American hospitals now have palliative programs, to the delight of patients who say they've finally found relief and a sympathetic ear.

Sleeping together benefits a couple's health. Couples may get health benefits simply from sleeping in the same bed, a burgeoning field of study is showing. In fact, some scientists believe that sleeping with a partner may be a major reason why people with close relationships tend to be in better health and live longer, the Wall Street Journal reports.




Photo credit: Courtesy drdeborahhecker.com