The Obesity Paradox: Fat And Fit Trumps Thin and Unfit
By Candy Sagon, September 18, 2012 08:00 AM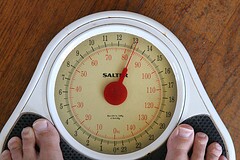 If obesity is so bad for our health, why do studies show that overweight and moderately obese patients with certain chronic diseases often live longer and do better than normal-weight or thin patients with the same illnesses?

That was the question posed by the New York Times  in a story that looked at what researchers have called the obesity paradox.

As writer Harriet Brown reported: "One study found that heavier dialysis patients had a lower chance of dying than those whose were of normal weight or underweight. Overweight patients with coronary disease fared better than those who were thinner in another study; mild to severe obesity posed no additional mortality risks." Also: "Diabetes patients of normal weight are twice as likely to die as those who are overweight or obese."

As health experts search for explanations - could it be genetics? or that thin patients aren't treated as aggressively? - one important factor seems to be fitness.

Research at the Cooper Institute in Dallas has found that being fit and fat is healthier than being thin and unfit. Doing regular aerobic exercise, even if it doesn't lead to weight loss, helps strengthen the heart and reduce dangerous fat in the liver.

There's also the matter of extremes. One researcher, analyzing data in 2005 from a national health and nutrition survey, found that the biggest risks of death were linked to extremes at either end of the weight spectrum - being underweight or severely obese, Brown wrote.

Whatever the explanation for the obesity paradox turns out to be, Brown reported, most experts agree that maintaining fitness is more important than just being skinny.

One of the first researchers to document the obesity paradox, cardiologist Carl Lavie, M.D., with the John Ochsner Heart and Vascular Institute in New Orleans, explained it this way to the Times: "Maintaining fitness is good and maintaining low weight is good. But if you had to go off one, it looks like it's more important to maintain your fitness than your leanness. Fitness looks a little bit more protective."

In other health news:

Pet-jerky death toll: 360 dogs, 1 cat. NBCnews.com reports that at least 360 dogs and one cat have died in the U.S. after eating chicken-jerky pet treats made in China. Claims of illnesses tied to the products have topped 2,200, federal veterinary health officials said.

Want to lose weight? Get enough sleep, experts say. Sleep is just as important to a successful diet as healthful eating and exercise, according to two obesity experts, partially because the overtired brain prompts the body to eat more, the Los Angeles Times reports.

Photo: puuikibeach via flickr