The Soundtrack of Summer Drive Time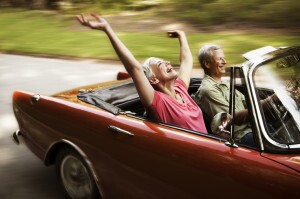 Remember those lazy, hazy, crazy days of summer with the top down—or at least the windows open — and Top 40 blasting from the radio.
I thought that was one of the things I had to give up as my hearing loss got worse. I drive a lot, especially in summer, and often on the same kind of open two-lane road that I remember from my teens and early 20s. But I can't hear the radio. And I especially can't hear the radio with the windows open.
Once again, technology comes to the rescue. Many hearing aids and cochlear implants now include Bluetooth capability. That means you can download Pandora or Spotify — with music that evokes sweet, bittersweet, sometimes exhilarating memories — and your favorite songs will be delivered straight to your hearing aid or implant. You can even listen with a friend, syncing your choices so you're both hearing the same thing via separate personal hearing devices.
Almost all brands of hearing aids now have Bluetooth capability. To access Bluetooth, you need to have a telecoil (most hearing aids have them — make sure your audiologist activates it), and then you don't have to do a thing except choose the track you want. If you have a PSAP (the cheaper version of hearing amplification known as a personal sound amplification product), these also often come with Bluetooth capability.
It would be nice if the car radio could be synced to your hearing aids via Bluetooth, but for now — as far as I can tell, and I've asked several tech experts — it only works the other way: You can sync your smartphone to your Bluetooth capable car, and the sound will come from the car's speakers. For me, the sound quality is much better using the streamer directly to my hearing aids.
Unfortunately, the Bluetooth devices are proprietary. Oticon makes the Oticon Streamer Pro (under $400). Phonak makes the ComPilot (around $500). Siemens' version is called the miniTek (around $500) . Check your brand of hearing aid, and there's probably a streamer available. If you have Made for iPhone hearing aids, you don't need the streamer. The connection is automatic. For more details on the Made for iPhone aids, take a look at this informative article by Anthony Wing Kosner. The first Made for Android hearing aids were announced earlier this year.
All of these Bluetooth devices also work for phone calls as well as with the GPS system on your smartphone, which is a tremendous boon to the solo driver going someplace unfamiliar. And of course, they allow you to listen to recorded books. But it's music that makes a long drive seem to go a lot faster.
At the end of the Fourth of July weekend, I drove my daughter and her boyfriend to the train, an hour away, so they could go back to work Monday morning. On the trip back to my house, I tuned into Spotify's " '70s Road Trip." I could have chosen from a host of "Road Trip" playlists or scores of other categories. I could have picked an album or a performer. A mood or a musical style. I could have picked one of my favorite Bruce Springsteen albums or the Rolling Stones or David Bowie or B.B. King or George Jones. Or Beethoven, Mozart or Shubert. The offerings are as endless as your imagination — and your memory.
Get discounts on hearing aids with your AARP Member Advantage »
These are all preselected playlists. You don't want to be fooling around with choosing songs while you're driving. But you can make your own playlist or choose a favorite album or performer. You could even make your own Top 40 playlists by picking a week in, say, 1972, and downloading the Top 40 selections from that week. Here's a link to Casey Kasem's American Top 40 for the week of June 10, 1972.
Pandora offers a similar service, but with less personal choice. It's closer to listening to a radio station. You can choose the general category (for instance, "Otis Redding Radio"), which gives you songs by that artist and others like him. Here's an article explaining the differences between Pandora and Spotify. Both Pandora and Spotify are free services as long as you don't mind occasional ads. You can pay a small premium to skip the ads, but for me they're part of that evocative '70s drive-time experience. I wouldn't even mind "Traffic and Weather Together."
Writing this made me wonder what had happened to the iconic '60s DJ Bruce Morrow. Happily, he can still be found on Sirius FM, hosting Cousin Brucie's Saturday Night Rock and Roll Party from 8 p.m. to midnight. If it ever becomes possible to connect a car radio to my hearing aids, I'll be listening. You may find me some Saturday night, sitting in my car and reminiscing with Cousin Brucie — via Bluetooth, telecoil and hearing aid.
Photo: stevecoleimages/iStock
Also of Interest

See the AARP home page for deals, savings tips, trivia and more.