The Caffeine Nap: For Drowsy Drivers, Coffee Then Sleep
By Candy Sagon , November 01, 2011 08:00 AM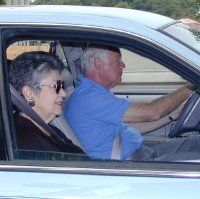 So you're driving to some far-flung relative's home for the holidays and halfway there you start feeling sleepy. Do you pull over for some coffee? Pull over and take a short nap?
Actually, the best thing to do is do both -- but not in the order you'd think.
Scientists call it "the caffeine nap," because first you have some coffee and then you take a 15-minute nap. It works because the brain gets just enough rest during the time it takes for the caffeine to kick in.
This is important for older drivers -- especially with the holiday travel season coming up -- who often suffer from insomnia problems and daytime drowsiness that can affect driver safety, according to a Yale University study.
The caffeine nap was first studied by British researchers at Loughborough University's Sleep Research Laboratory. They discovered that 200 mg. of caffeine (8 ounces of strong brewed coffee or a caffeine pill) followed by a short nap was most effective at reducing driving mishaps and re-energizing drivers.
Using a driving simulator and brain wave measurements, the scientists found that the caffeine nap worked better than either caffeine alone, a short nap, cold air, or a break with no nap, at reducing drowsiness and improving driving performance.
The sleep researchers believe this works because the short nap helps revitalize drivers, but is brief enough not to allow them to enter a normal sleep cycle, which can cause even more grogginess.
And because caffeine takes 20 to 30 minutes to kick in, its stimulant effect begins just as the nap is ending.
Researchers warn, however, that caffeine drinks with a high sugar content can worsen sleepiness.
To get an idea of the caffeine content in some typical coffee drinks, take a look at a few examples from this list from the Mayo Clinic.
Espresso, 1 oz., restaurant-style: 40 to 75 mg. caffeine
McDonald's brewed, 16 oz., 100 mg. caffeine
McDonald's Mocha Frappe, 16 oz., 125 mg.
Starbucks Latte, 16 oz., 150 mg.
Starbucks Pike Place, brewed, 16 oz., 330 mg.
Photo credit: dot.wisconsin.gov