Who Lives to 100? Women More Often Than Men
By Candy Sagon, December 11, 2012 01:40 PM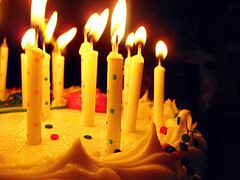 If you're a woman with 100 or more candles on your birthday cake, the 2010 Census says you're probably white and living in the South.

And if you'd like to date a man of the same age, the odds aren't in your favor: For every 100 women who have lived to the century mark or older in the U.S., there are only 20.7 men who have done the same.

In a special report released this week, the Census Bureau says the latest figures show there were 53,364 people age 100 or older in the country in 2010, and 82.5 percent were white. (By comparison, whites make up 72.4 percent of the total U.S. population.) About 6 percent of centenarians were Hispanic.

Super-centenarians - those who were 110 or older - made up just 0.6 percent of the centenarian population in the U.S., the 2010 Census found.

Among the report's other findings about America's centenarians:

Nearly 86 percent lived in an urban area, perhaps for better access to health care.
By region, the South had the most, with 17,444, followed by the Midwest, with 13,112; the Northeast, with 12,244; and the West, with 10,564.
By state, California, with 5,921 centenarians, had the most, followed by New York, Florida and Texas. Alaska, with 40 centenarians, had the fewest.
Women age 100-plus were slightly more likely to live in a nursing home (35.2 percent vs. 18.2 percent for men), while centenarian men were slightly more likely to live in a relative's home (43.5 percent vs. 28.5 percent of women).
Centenarians represent fewer than two per 10,000 people in the total U.S. population, but 19 per 10,000 among those who are 70 or older. More than half (62.5 percent) of centenarians were 100 or 101, while about 92 percent were 100 to 104.


Photo: jessica.diamond /flickr