Why is fighting Alzheimer's important? Exclusive Q&A with George Vradenburg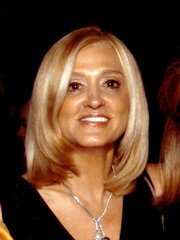 Every other Thursday, we have Trish Vradenburg as our special guest blogger covering Alzheimer's issues. Trish is a playwright, author, television writer, and Alzheimer's disease advocate. She and her husband, George, founded UsAgainstAlzheimer's with the goal of finding a cure or treatment for Alzheimer's by the year 2020. She brings her legendary humor and wit to the devastating realities of Alzheimer's, and we're excited to have her share with us here.
Earlier this month, George Vradenburg participated in his first meeting of the national Advisory Council on Alzheimer's Research, Care and Services, which is charged with developing the first-ever national plan to combat Alzheimer's. Using some connections (namely, that he's my husband), I was able to secure an exclusive interview with Mr. Vradenburg, and we discussed how Alzheimer's has affected him personally and the work he's done to stop the disease.
TV: Thank you for meeting with me to discuss your work to end Alzheimer's by 2020, Mr. Vradenburg.
GV: Always a pleasure, Mrs. Vradenburg.
TV: What were your thoughts about Alzheimer's before it entered your personal life?
GV: I'd never heard of this disease until it struck the mother of the love-of-my-life, Trish. Then I saw it up close and personal. How frightening it is to the victim who does not know what is happening as they slowly, slowly lose their mind and then the control over their body and then all consciousness of the world around them. And what it does to a loving spouse who feels helpless as their loved one is dying over years and years and they can't do anything about it. And what it does to a family as the relationships splinter and falter and become tangled and confused. Once I saw this disease up close, I wanted to fight it. It was my wife, who first took this disease on through her plays and then through fundraising events, who enlisted me in the Alzheimer's army.
TV: When and how did you decide to join me as co-founder and channel our passion for curing Alzheimer's into our organization USAgainstAlzheimer's?
GV: After years of raising money for the Alzheimer's Association and lobbying on the Hill for Alzheimer's legislation, I felt, as did you, that there was not the sense of urgency or scale in the country or in the political class for truly tackling this disease. We created USAgainstAlzheimer's to add that urgency and scale to the movement and, through the name of the organization, to emphasize that efforts to stop Alzheimer's by 2020, our goal, is very much a team effort, an "US" enterprise.
TV: Why did you feel it was important that you and your wife (me) create a new organization to fight Alzheimer's?
GV: Just as Susan G. Komen has added a sense of urgency to the cancer movement independent of the American Cancer Society, we thought that USAgainstAlzheimer's could add to the Alzheimer's movement by adding a collaborative, urgent, edgy spirit.
TV: You've had a successful business career - thank goodness - and have helped pave the way for many of the innovations that have shaped our world today. What innovations do you foresee for curing Alzheimer's?
GV: We need to set a clear national goal to stop Alzheimer's by 2020 because doing so will force "out-of-the-box" thinking about how to accelerate the pace of drug discovery. Reducing the time between basic research discoveries and the availability of therapies to those at-risk for Alzheimer's requires two kinds of innovation: policy innovations that employ public-private collaboration, incentives to private investment, and reforms of regulatory processes on the one hand, and industry use of open innovative systems that link scientists in industry, academia and elsewhere to address critical unanswered scientific issues.
TV: You just had your first meeting for the president's Advisory Council tasked with forming the first-ever national plan to combat Alzheimer's. Will you recount how the Advisory Council got started and why its creation - and ultimately its plan - is so important?
GV: The statutory requirement that the Administration develop and execute a national Alzheimer's strategic plan has been our objective since 2005, when we first approached former speaker Newt Gingrich, former Senator Bob Kerrey, retired Supreme Court Justice Sandra Day O'Connor and other luminaries to form an Alzheimer's Study Group to recommend just such a plan. Their 2009 ASG Report was the forerunner of the National Alzheimer's Project Act, signed by President Obama on January 4 of this year, which now requires the Administration to develop a plan. Secretary Sebelius committed to a robust and comprehensive plan; should she deliver on that promise, it could, for the first time, focus the national resource on stopping Alzheimer's - and, in doing so, save millions of lives and trillions of Federal taxpayer dollars that would otherwise be needed to support Alzheimer's victims through Medicare and Medicaid.
TV: Who are you serving alongside on the Council? What was discussed? And what is next?
GV: At the first meeting, I literally sat next to two senior representatives of the Department of Health and Human Services. Several Federal agencies made presentations regarding existing Federal efforts aimed at Alzheimer's or Alzheimer's-affected families and regarding additional efforts that will be needed to identify a cure and to improve the care of victims. From both public and private representatives on the Advisory Council there was a strong, shared commitment to stop this disease and to care for its victims. Our next meeting is scheduled for January 17, at which time we expect the Federal agencies dealing with Alzheimer's to present the first iteration of a national plan.
TV: What is the one outcome you most want to see from the Advisory Council?
GV: A transformative plan to stop Alzheimer's by 2020.
TV: What memory would you never want to lose?
GV: Of you.
TV: Mr. Vradenburg, did I mention what a great husband you are?
GV: I never get tired of hearing it, Mrs. Vradenburg.
Photo provided by: USAgainstAlzheimer's