Why Southern Food Is Bad for Your Brain
By Candy Sagon, February 11, 2013 10:00 AM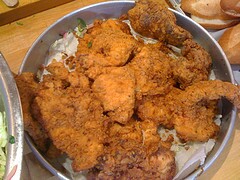 The South is called the Stroke Belt because its residents are more likely to have a stroke than are people in other parts of the country. And now University of Alabama researchers think they know why: It's all that fried chicken, bacon, ham, pies and sweet tea.

The researchers, who presented their results at the International Stroke Conference last week, found that those who ate typical Southern food six times a week had a 41 percent increased risk of stroke over those who ate it only once a month.

>> Stay sharp with help from the AARP Brain Health Center

In African Americans, the stroke risk was five times higher than for whites. (A stroke occurs when a clot breaks off from a clogged artery and blocks blood flow to the brain.)

Those who ate the most Southern food lived in the seven states that make up the Stroke Belt - Alabama, Arkansas, Georgia, Mississippi, North Carolina, South Carolina and Tennessee, reported MedPage Today.

The new study's findings are based on data from more than 20,000 whites and African Americans 45 or older who underwent medical tests and answered questions about their eating habits and health from 2003 to 2007, the
Los Angeles Times
reported.
Lead researcher Suzanne Judd, Ph.D., a nutritional epidemiologist at the university, said the study is the first large-scale effort to look at
stroke
and the typical Southern diet, which is heavy on salty, fatty foods and
sugary drinks
.
The high amount of salt in deep-fried food raises blood pressure, a known stroke risk factor, Judd said. And sweet drinks can contribute to diabetes, the disease that celebrity chef Paula Deen, the queen of Southern cuisine, revealed she had a year ago, the Associated Press noted.

The most dramatic proof that too much Southern cooking is bad for you: Those who ate a very non-Southern diet had a lower risk of stroke. The people in the study whose diets were high in fruits, vegetables, whole grains and fish (but not fried fish) had a 29 percent lower stroke risk.
"Diet is an overlooked risk factor for stroke," Judd told MedPage Today. Unfortunately, "stroke patients or patients with risk factors for stroke are rarely referred for dietary counseling."



Photo: arnold | inuyaki /flickr