Worst Restaurant Meal in America? Something Fishy
By Candy Sagon , July 02, 2013 03:35 PM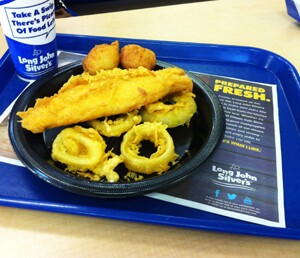 Too much unhealthy trans fat, too little healthy fish - that's basically the reason a Washington nutrition action group has named Long John Silver's "Big Catch" the worst restaurant meal in America.
The Center for Science in the Public Interest (CSPI) called the meal of fried fish, hush puppies and onion rings "a heart attack on a hook."
In its report, CSPI says lab tests showed the fried fish meal not only contains an "astonishing" amount of trans fat and saturated fat (both contributors to heart disease), as well as a whopping amount of sodium (3,700 mg - more than twice the recommended amount for an entire day), but the fast food chain also greatly overstates the amount of actual fish in the meal.
The 9 Unhealthiest Restaurant Meals Are...
Instead of the 7 to 8 ounces of haddock the restaurant says the meal contains, CSPI found - after scraping off the thick fried coating - that there's about 4.5 ounces of fish and 3 ounces of batter.
Eating the whole meal also will net you 33 grams of trans fat - more than you should eat in two weeks, according to the American Heart Association.
In response to the report, Long John Silver said the company "offers a variety of meal choices including baked fish and shrimp that can satisfy almost every diner's dietary choices."
"We stand behind our published food data and will review any requests from CSPI that raise questions about our data," the company said in a press release.
CSPI executive director Michael F. Jacobson also called on Long John Silver to stop using partially hydrogenated vegetable oil for frying, which contributes to the high amount of trans fat in the food.
Many chains have stopped using the industrially manufactured oil after it was found that trans fat increases cholesterol and damages blood vessels - "double trouble for your heart," as the Mayo Clinic calls it.
Photo: Clare Politano/Center for Science in the Public Interest
Also of Interest

Join AARP: Savings, resources and news for your well-being
See the AARP home page for deals, savings tips, trivia and more