You Want the 230-Calorie Fries With That? Or The 500-Calorie Ones?
By Candy Sagon , July 28, 2011 08:00 AM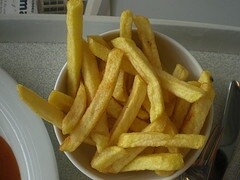 Here's the thinking: If we knew how many calories were in our restaurant foods, we'd make healthier choices about what to order.
But is that really true?
A new study of New York City fast-food restaurants found that only one in six customers use the calorie information on menus, but they generally order about 100 calories less than those who either didn't notice the numbers or who ignored them.
The study, published this week in the British Medical Journal, was the first large-scale look at how well New York City's effort to encourage healthier eating is working. In 2008, New York became the first city in the country to require chain restaurants to post the counts. Starting next year, a federal law will require that all chains with 20 or more locations to print calorie counts on menus.
The study looked at lunchtime purchases at 168 randomly selected locations of the top 11 fast-food chains in New York City. Customers were surveyed in 2007, before the city law to post counts was passed, and again in 2009, a year after the law took effect. Nearly 16,000 customers provided their receipts and were interviewed about their choices.
Although not much change was noted overall between pre-law and post-law purchases, customers at three major chains -- McDonald's, Au Bon Pain and KFC -- did order fewer calories:
*McDonald's purchases dropped from an average 829 to 785 calories.
*KFC customers reduced their calories from 927 to 868.
*Au Bon Pain purchases went from an average 555 to a slim 475.
Those restaurants also added healthier choices to their menus about the time the law was passed, the study noted.
The researchers also found that more than 20 percent of customers at Subway and Au Bon Pain paid attention to calorie counts, an increase from the overall average of 15 percent; that women were more likely to use calorie information to decide what to order; and that young people were the least likely to use calorie counts.
"Calorie labeling alone won't cure the obesity epidemic, but it is one part of trying to address it," said study co-author Lynn D. Silver, MD, director of the Office of Science and Policy at New York City's Department of Health and Mental Hygiene.
On the other hand, can we really trust those calorie counts?
Scientists at Tufts University recently found that the calorie counts on restaurant websites were often too high for foods like pizza, meats and side dishes, but too low for soups and salads. Nearly one in five samples analyzed from 42 national fast-food and sit-down chains were at least 100 calories over the amounts listed on the websites.
Let's hope by next year, those menu counts will be more accurate.
Photo credit: Waferboard via flickr.com