Burt Shavitz: Burt's Bees Co-Founder Was Mr. Natural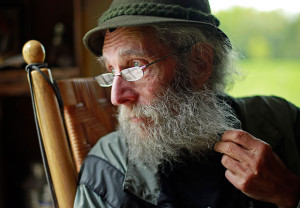 If you're a fan of the Burt's Bees line of natural, environmentally friendly personal care products, you might have assumed that the Walt-Whitman lookalike on the label was a generic hippie dreamed up by marketing experts.

>> Famous People We've Lost in 2015

But Burt Shavitz, who passed away on July 5 at age 80 in Bangor, Maine, was a real person and an actual beekeeper. Here are some intriguing facts about a man who was as wild and free-spirited as his likeness might suggest.

In 1970 Shavitz abandoned his career and urban lifestyle as a New York City photojournalist for Time and Life after his photograph of a dour neighbor staring out her window made him realize "that would be me ... if I didn't get the hell out," he once explained to the New Yorker.
He moved to Maine – "a Garden of Eden" he remembered from childhood visits – and built his first home there with lumber donated by neighbors window frames scavenged from the local dump.
He became a beekeeper after a man whom he'd met as a news photographer gifted him his complete set of beekeeping gear, which he later described as "an act of God."
He met his future business partner, artist Roxanne Quimby, when he gave her a ride hitchhiking.
He and Quimby started out selling candles made from wax from Shavitz's hives before expanding into personal products.
Though he reportedly received $4 million after the company was sold to investors in the 2000s, he continued to live an austere lifestyle without running water and heating his house with a wood stove.
He didn't own an alarm clock.
According to Mental Floss, the image on the product label was from a wood carving created by artist A.C. Kulik.


Get discounts on prescriptions, eye care and more — AARP Member Advantages »

Here's the trailer to the 2014 documentary about him, Burt's Buzz.


Photo: AP Photo/Robert F. Bukaty