Chester Nez: Last of the Navajo Code-Talkers
When Chester Nez attended boarding school in the 1930s, he risked having his mouth washed out with soap if he spoke in Navajo instead of English. But fortunately for America's fortunes during World War II, he never forgot the language of his people.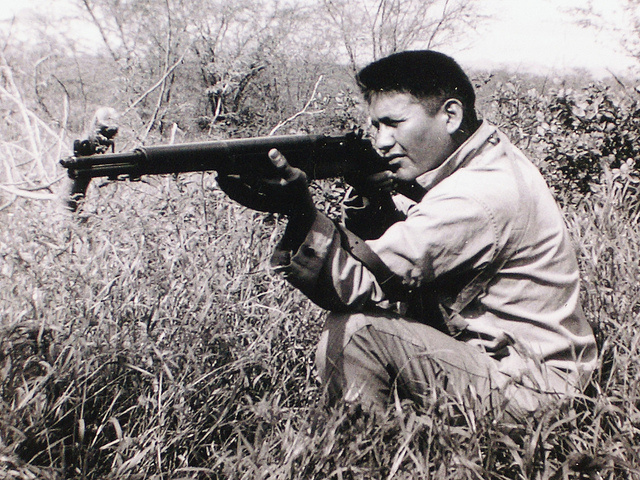 Nez, who died on June 4 at age 93 in Albuquerque, N.M., was the last of the U.S. Marine Corps' original group of 29 Navajo code talkers, who used their native language to transmit radio messages on troop movements and battlefield tactics that baffled Japanese eavesdroppers. The code-talkers developed an alphabet using common Navajo words - "A" in English, for example, might become "wolla-chee," the Najavo word for ant - and used common Navajo words to symbolize military lingo. A tank, for example, might become "chay-da-gahi," the Navajo word for tortoise, according to U.S. Navy historians' list of Navajo code terms .

>> Sign up for the AARP Health Newsletter

Here are some facts about Nez and his remarkable contribution to the war effort and later life:



Nez grew up in Two Wells, N.M., on the eastern side of the Navajo Nation, to a family of sheep herders.
Nez enlisted in the Marine Corps in 1942 after he encountered a recruiter who was looking for young men fluent in both English and Navajo. He served in the all-Navajo 382nd Platoon.
Nez saw action in the battles of Guadalcanal, Guam, Peleliu and Bouganville during World War II, according to his Arizona Republic obituary.
The Navajo language was so unfamiliar to non-Navajos that once while Nez and another code-talker were in the field, they were mistaken for Japanese soldiers and held at gunpoint by U.S. forces, until a Marine officer showed up to vouch for them.
After serving in the Pacific campaign, Nez volunteered again during the Korean War and served two more years in the Marines.
Because the Pentagon kept the use of Navajo code a classified secret until 1968, Nez, who was eager to tell his family about his career, had to remain silent for decades.
Nez later became a painter for the Veterans Administration, and worked for the VA until he retired in 1974.
In 2001, he and other surviving code-talkers received medals from Congress to honor their service.
In 2012, Nez received a bachelors degree from the University of Kansas, where he had studied fine arts after his military service until the expiration of his benefits forced him to drop out.


>> Get travel discounts with your AARP Member Advantages.

Here's an interview that Nez gave in 2013, while he was in Washington, D.C., to accept the Audie Murphy Award for distinguished service from the American Veterans Center.




Photo: Fronteras Desk/Flickr



Also of Interest



See the AARP home page for deals, savings tips, trivia and more