Dr. Joyce Brothers: Her 5 Most Surprising TV Moments
Today, when we're feeling in need of advice or reassurance about our inner woes, we're accustomed to turning on the TV and watching someone such as psychologist Phil McGraw or physician and addiction expert Drew Pinsky elicit epiphanies from troubled people right in front of the camera, and in the process dispense advice to millions. But it was Joyce Brothers, who died on May 13 at age 85 in Fort Lee, N.J., who invented the role of the TV psychologist in the 1950s and first got us to trust in a celebrity mental health expert.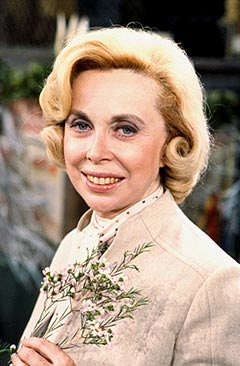 For a society that had developed a stiff upper lip to cope with the collective traumas of the Great Depression and World War II, Brothers was a perfect fit. An upgraded version of Ann Landers, with a Ph.D. from Columbia University to buttress her common-sense adages, her succession of TV advice programs (beginning with The Dr. Joyce Brothers Show in 1958) and bestselling books provided viewers with a much-needed license to open up and confront their feelings and inadequacies.

Brothers, nearly always, persuaded us to have faith in self-insight's transformative power to solve problems. The New York Times wrote in 1971 that she "monitors the nation's emotional barometer through her mass practice over the airways and in print." A 1981 Baltimore Sun profile of Brothers put it more succinctly: "A nation cries on her shoulder."

Like Woody Allen's fictional character Zelig, Brothers also had the knack for popping up in the most surprising places. Here are five such moments:

Brothers first became a celebrity not because of her emotional acumen, but thanks to what the Times once described as a "vacuum cleaner memory." She was an autodidact who absorbed trivia - a gift that she put to use in becoming the first woman ever to win the top prize on the famous quiz show, The $64,000 Question, in 1955. When that program was scandalized by revelations that answers had been leaked to some contestants, she appeared on a spinoff program, The $64,000 Challenge, and proved her mettle by answering a series of arcane questions about boxing.

In this interview with Joan Rivers, she explains how a man's choice of fruit reveals his inner qualities.

In the MTV video for guitarist Jeff Beck's song "Ambitious," Brothers had a cameo as a would-be vocalist at an audition.

In this segment of the The Bill Boggs Show, she gives Andrew Dice Clay, the coarse early 1990s comedian, some help in providing advice to the studio audience.

In this episode of Taxi, Brothers makes a surprise cameo, playing the therapist who has cured Latka (Andy Kaufman) of multiple personality disorder.


Also of Interest

Join AARP: Savings, resources and news for your well-being


See the AARP home page for deals, savings tips, trivia and more



Photo: Paramount/Everett Collection