James Jude: He Invented CPR
By Patrick Kiger, July 30, 2015 03:30 PM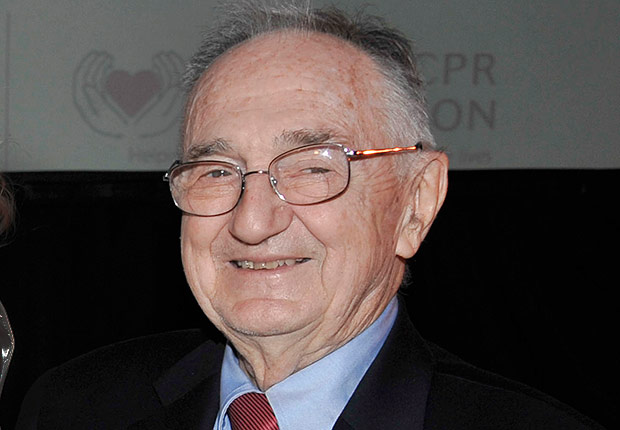 In the late 1950s, a young surgical resident at Johns Hopkins Hospital named James Jude learned that his friend Guy Knickerbocker had noticed something strange during an experiment. Knickerbocker, a graduate student, had pressed electrical defibrillator paddles against a dog's chest, and amazingly, the force seemed to cause the animal's stopped heart to begin pumping blood again.

Famous People We've Lost in 2015 »

Jude, who passed away July 28 at age 87 in Coral Gables, Fla., then had a brainstorm. What if a rescuer simply pressed rhythmically on the chest of a cardiac arrest patient? Working with Knickerbocker and electrical engineer William Kouwenhoven, Jude developed the technique that evolved into cardiopulmonary resuscitation, or CPR, and saved countless lives. Here are some interesting facts about Jude and his work:

He grew up in tiny Maple Lake, Minn., where a high school teacher got him interested in becoming a doctor.
After developing the technique, Jude was told that he would have to perform it successfully 100 times before he'd be allowed to give a presentation on it.
He originally believed that chest compression was enough to keep a patient alive, but Peter Safar, M.D., one of the inventors of mouth-to-mouth resuscitation, added that to CPR. In 2008, the American Heart Association decided that Jude had been right, and started advocating hands-only CPR.
Jude helped spread the use of CPR by training firefighters in the technique.
Jude preferred trying to revive patients at the hospital without calling for a "crash cart" team, because he worried about the hefty medical bills that the patients would have to bear.
Jude became chief of thoracic and cardiovascular surgery at the University of Miami School of Medicine, working as a surgeon for 50 years before retiring in 2000.
Here's a biographical video about Jude.




Get discounts on prescriptions, eye care and more — AARP Member Advantages »

Also of Interest

See the AARP home page for deals, savings tips, trivia and more.