Ray Price: King of the Honky Tonk Jukebox
By Patrick Kiger, December 17, 2013 06:53 PM
Singer Ray Price once was Hank Williams' protege, but he might have left an even bigger stamp on country music. Price, who died on Dec. 16 at age 87 in Mount Pleasant, Texas, was an amiable iconoclast - a bold experimenter who was never content to play it safe and just do what seemed to be popular at the time.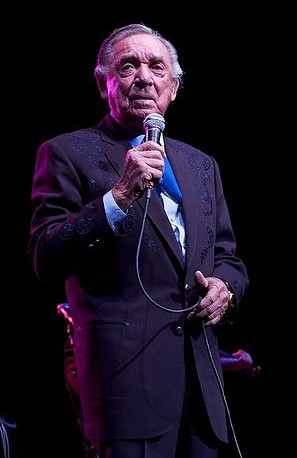 Back in 1956, for example, Price decided to tinker with the then-standard country style of a 2/4 beat that emphasized the second and fourth beats. Price decided to do a song in 4/4 instead, and have a stand-up bass and an electric bass guitar play the same notes, so that their sound blended in what became known as the Ray Price shuffle. Then he added a crystal clear, plaintive tenor vocal about the pain of a lost love:

Now, blue ain't the word for the way that I feel,
There's a storm brewin' in this heart of mine.
This ain't no crazy dream, I know that it's real.
You're someone else's love now, you're not mine!
>> Sign up for the AARP Health Newsletter

The result was "Crazy Arms," a hit that topped the country charts for five months and prompted folks to get up and dance to a sad song in honky-tonks and roadhouses across the land. Eventually, the 4/4 shuffle sound that Price pioneered became such a standard in country music that it's hard to imagine there was ever a time without it. As Rolling Stone once opined: "Price almost single-handedly changed the way country music was played, opening the doors to shuffles, waltzes and assorted rhythmic progressions."


Price continued to innovate throughout a career in which he recorded more than 100 songs that made the country hit parade lists. In 1967, he got the notion to record "Danny Boy," the old Irish standard, with lush strings and a pop arrangement. It was a sound sure to puzzle many of his old-school country fans, and he had to plead with Columbia Records exec Clive Davis to let him release it. But it turned into another huge hit.


Here are some other facts about Price:

After serving in the Marine Corps during World War II, Price enrolled at North Texas Agricultural College, with the goal of becoming a veterinarian. But when he sang and played guitar at college events and local clubs, audiences liked his music so much that he decided to make a career of it.
Price's first single to make the country top 10 was "Talk to Your Heart" in 1952.
Hank Williams, who lobbied to get him into the Grand Ole Opry, was his friend and mentor.
Price, who had Cherokee ancestry, named his band the Cherokee Cowboys.
His own favorite recording was his cover of Kris Kristofferson's "For the Good Times."
Price continued to perform well into his 70s. "Fans come to the shows, bless their hearts, they always come," he once explained.
In 2007, he recorded a double CD with Willie Nelson and Merle Haggard.


>> Get discounts on health products and services with your AARP Member Advantages.

Photo of Price in 2009: MHarrison via Wikipedia



Also of Interest



See the AARP home page for deals, savings tips, trivia and more