Taking Tea With Oscar de la Renta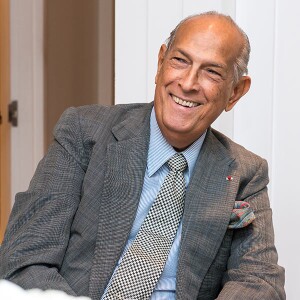 Oscar de la Renta (right), the Dominican Republic-born fashion designer who clad the stars for 60 years and died Oct. 20 at 82, was one of my first teachers at Parsons School of Design back in the late 1960s.
A devoted fashion-magazine junkie, I had wangled an interview with Vogue editor-in-chief Diana Vreeland, who suggested I become a clothing designer. My portfolio landed me in a class on fashion design taught by Mr. de la Renta, who had launched his own flirty, feminine, classy line of clothes not long before.
>> Famous People We've Lost in 2014
Drawing was one thing — I could do that, I knew. But now this fabulous, famous designer — ever tanned, trim and impeccably dressed — would be critiquing my draping and sewing skills. Panic! Freaked out by the pressure, I secretly paid another student to do my "homework."
Was Mr. de la Renta taken in by my subterfuge?
"Not so much," as a later trope would have it. But he must have seen something in my work, for he soon asked me — in his trademark interested and gentlemanly way, of course — if I had ever thought about becoming a fashion editor.
I hadn't; I was still intent on becoming his greatest rival in clothing design. But upon graduating from Parsons in 1970, fashion editing is exactly the course I embarked upon.
Fast-forward to the early 1980s: Mr. de la Renta is launching one of his gorgeous fragrances, and I'm working as the beauty and fashion director of Ladies' Home Journal. He summons me by limo to his gorgeous home in Kent, Conn., where we walk through the house and then sit in the garden, sipping tea as he explains the nuances of the new scent. Not an agenda-pushing PR person or fawning personal assistant in sight.
Which, I reflected on hearing yesterday's news of his death, was the essence of the guy.
>> Get discounts on health services with your AARP Member Advantages.
Unaffected by the wealth and success he had achieved, Oscar de la Renta was the first luxury designer to reach out, via lower-cost fragrances, accessories and swimsuits, to everyday women who could never afford his couture line. And don't forget his distinctive "O Oscar" label, which debuted in July 2004 and offered silk tops, brocade jackets and embroidered sweaters for $100 or less. I loved them all — and featured them frequently in the magazine.
Oscar de la Renta's secret was a simple one: clothes that were invariably feminine and elegant, filled with color and touched by the exotic. By the time of our sit-down, that formula had led him to be crowned King of the Ladies Who Lunch, and he was dressing first ladies and celebrities bound for red carpets worldwide.
I asked my old teacher point-blank if he recalled our torturous year together at Parsons — especially his dead-on assessment of my future as a fashion designer. Mr. de la Renta laughed. "It's more important to recognize what you have that sets you apart from the crowd," he told me, "than to be just another face in it."
He followed his own sage counsel to the end — not a bad idea for anyone seeking life guidance in his wake.
Photo: Michael Stewart/Getty Images
Also of Interest

See the AARP home page for deals, savings tips, trivia and more