Changing Reasons for Firing May Be Evidence of Age Discrimination
By Lisa McElroy , May 22, 2014 03:58 PM
Imagine that you are terminated from your job. You're in your 60s. You know that it's going to be hard to find new work. You consider filing an age-discrimination complaint.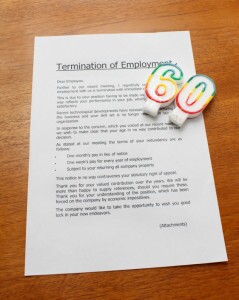 But your employer says that it's just eliminating your position, not discriminating against you because of your age. That means your employer is acting legally, right?

Well, maybe not, a federal appeals court ruled last month. In 2011, James Pierson was fired from his job as facilities manager at the Dickson, Tenn., plant of Quad/Graphics, a huge printing company based in Sussex, Wis. The company said it was downsizing. But what it did suggested that the explanation was false: It filled the position with another manager who was 15 years younger than Pierson.
>> Sign up for the AARP Money newsletter
Pierson, now 62, encountered a problem when he sued and Quad/Graphics used its "reduction in force" excuse to explain his termination. Without more evidence of age discrimination, the trial court said, Pierson was out of luck. It dismissed his case.
But the U.S. Court of Appeals in Cincinnati disagreed. Pierson had at least presented enough evidence to let a jury hear about his problem, the court ruled. Most persuasive? The fact that Quad/Graphics offered different explanations for its decision to terminate Pierson - ranging from the purported reduction in force to the suggestion that he wasn't a "team player."
Judge Karen Nelson Moore found the changing justifications fishy. "Although it is possible that [the company decision maker] had Pierson's allegedly poor teamwork in mind when he initially selected him for termination, and that both reasons played a role in Pierson's discharge, a reasonable jury could conclude that [the person who fired him] shifted the reasons for his decision over time," Moore wrote. "Such shifting justifications raise an inference that the proffered reasons are false and are pretext for discrimination."
>> Get discounts on financial services with your AARP Member Advantages.
Dan Kohrman, a senior attorney with AARP Litigation Foundation (which wasn't involved in this case), points out that while it's rare in age discrimination cases for a plaintiff to have such "direct evidence" of age bias as explicit ageist remarks, "The multiple shifting rationales cited by the court do provide evidence of age discrimination."
AARP has also been urging Congress to pass the Protecting Older Workers Against Discrimination Act, which would effectively reverse a 2009 Supreme Court ruling that has made it more difficult for older workers to prove claims of illegal discrimination based on age.
Photo: kbwills/iStockphoto
Also of Interest
See the AARP home page for deals, savings tips, trivia and more