Foundations Are Offering $$$ and More to Livable Communities
By Nancy LeaMond, November 05, 2015 09:45 AM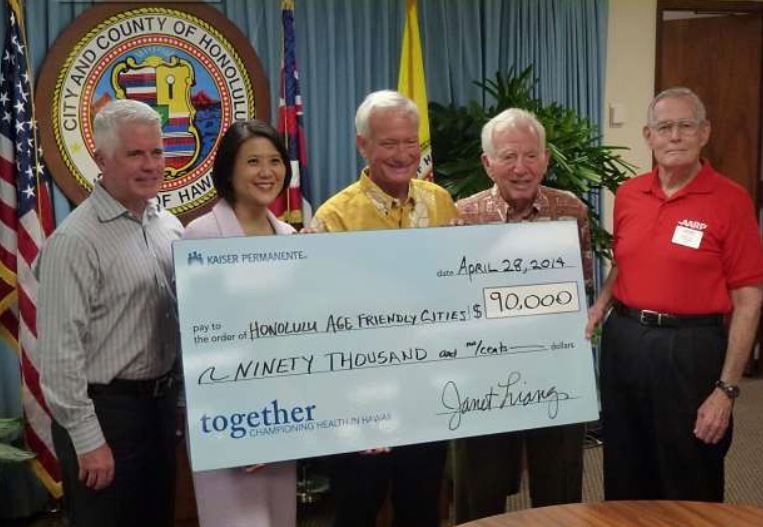 I have a long-standing point of view: The issue of livable communities is too big and important for any one sector to solve the challenge. For there to be a sustainable movement to create more walkable, livable communities across the country, every sector needs to be at the table. A healthy, balanced and successful effort requires that each group has its place, making different contributions.

A few years ago we looked at the different sectors that were involved in livable communities projects, including the groups AARP was working with. We saw increasing evidence that nearly every sector had a good reason to get involved. The appeal had become broad: People representing a wide range of ages — Gen Xers, millennials and boomers — were all calling for more walkable and livable communities, offering the promise of many important benefits for businesses and the economy.

We saw local leaders, residents, advocates, experts, business owners and government agencies all playing important roles. At that time, there was a group representing a potentially critical source of funding and, more importantly, expertise that didn't seem to be at the table in a consistent way — foundations (especially community foundations) and other charitable groups. So, I became particularly anxious to see if we could generate interest among these organizations to invest in livable communities projects.

It took some time, but we began to find communities where foundations were open to listening to proposals and to investing in making those communities more livable. Some were already involved. But we found, as with so many things in life, you have to ask. And you have to make a good case!

Since that time, I'm pleased to say we've seen a growing number of places where community foundations and other charitable institutions are investing their efforts in livable communities work, and they are proving themselves to be effective conveners and leaders for these efforts. I don't know if we can quite call it a groundswell just yet, but it sure appears to be headed in that direction.

In fact, it's starting to happen everywhere — from Maine to Iowa, from Massachusetts to Arizona, Michigan to Florida, Iowa and many other places. Here are a few highlights from across the country:

Provided funding to AARP Maine in 2014 and 2015 to enroll Maine communities in the AARP Network of Age-Friendly Communities and support subsequent work to implement the program. Since funding started, five Maine communities have joined the network. Take a look at the growning Member List.

The trust provided funding to the Maricopa Association of Governments to support development of community age-friendly initiatives. Their funds have supported public engagement and community assessments and provided seed money for efforts in several communities in Maricopa County.

Grants totaling around $20 million annually are given to nonprofits that provide basic services such as food, clothing and shelter to people in need. El Pomar is the main source of funding for the Innovations in Aging Collaborative in Colorado Springs, which is the lead agency behind the Age-Friendly Communities effort there.

The foundation has been the fiscal agent and one of the lead organizations for the Pfizer Foundation's Community AGEnda initiative in Miami-Dade County. AARP Florida is involved with this work as well.

Representatives from this group serve on the Age-Friendly Greater Des Moines Advisory Council and are now at the threshold where the Community Foundation and some of the family foundations and donor-advised funds they manage are soliciting proposals to finance activities in support of the initiative's objectives.

Building age-friendly communities is a focus area for the Tufts Health Plan Foundation. It awarded $2 million in grants to Massachusetts communities this year. These investments advance efforts toward Age-Friendly Communities using the domains of the World Health Organization. The Tufts Health Plan Foundation is coordinating its efforts with AARP Massachusetts and encouraging communities to enroll in our network.

The Patterson Foundation does not solicit grant proposals, nor does it accept funding inquiries. Instead, it partners with organizations, primarily nonprofits and philanthropic foundations, by leveraging its "existing relationships with subject matter experts and providing direct support, delivering the strategic insights and resources it takes to create new realities." Sarasota County, Florida, joined the AARP Network of Age-Friendly Communities in 2015 and The Patterson Foundation works with AARP Florida to support Age-Friendly Sarasota, a county-wide effort to promote healthy and happy living for people of all ages.

The Kaiser Permanente Community Benefit is the charitable arm of the health insurer Kaiser Permanente. Its grants support organizations and programs that aim to improve health among people of all ages by changing the environments in which people live and play. A Visionary-level sponsor of the Age-Friendly Honolulu initiative, Kaiser Permanente Hawaii has contributed $130,000 to date and provided seed funding to implement the work plan the city began upon on engaging with AARP Hawaii and joining the AARP Network of Age-Friendly Communities in March 2013.

cc
***
I hope you will join me in praising these organizations for making such important investments. And be sure to check out what's new on AARP.org/livable (the website of our AARP Livable Communities initiative), follow us on Twitter @AARPLivable and subscribe to our free, award-winning AARP Livable Communities Monthly eNewsletter.

Nancy LeaMond is AARP's chief advocacy and engagement officer and the executive vice president for AARP Community, States and National Affairs. Follow her on Twitter at @NancyLeaMond.


---

YOU MAY ALSO LIKE

Read about more livable-minded foundations in our "Age-Friendly Foundations" collection

Learn more about the AARP Network of Age-Friendly Communities by visiting aarp.org/agefriendly

Get ideas from our Livable Lessons and How To's collection

Find resources about numerous livability topics in the AARP Livable Communities A-Z Archives