Walk and Talk at the National Walking Summit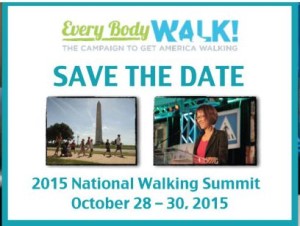 As a member of the Every Body Walk! Collaborative, an America Walks initiative, AARP Livable Communities will be walking to and talking at the second annual National Walking Summit, in Washington, D.C., Oct. 28-30.

The event is the only national meeting that brings together the multiple supporters, allies and experts who are working to increase walking and make communities more livable and walkable. The summit's workshops and sessions include numerous educational and "netwalking" activities, among them:

America Walks "Walk the Hill" Day: Join leaders and organizers from around the nation in telling Congress we need safe, accessible communities so everyone can walk.
Nordic Walking: Learn how so-called Nordic walking facilitates balance and fosters recovery from illness and surgery.
Playing Along the Way: See demonstrations of ways children can have fun while walking to parks, schools and other destinations.
Where's the Money? Finding the Funding for Pedestrian Improvements: Hear about creative funding strategies at the state and local levels — and how to make your case via social media and crowdfunding techniques.

Participate in a Walking Case Study: Explore how Arlington County, Va., has brought a livable urban village into being and created replicable examples of pedestrian safety solutions.

>> GET LIVABLE! By subscribing to the award-winning AARP Livable Communities Monthly eNewsletter and registering for the National Walking Summit


---

MORE ABOUT WALKING