Behind the Scenes on 'The Cheap Life' Set
By Jeff Yeager, December 17, 2012 10:19 AM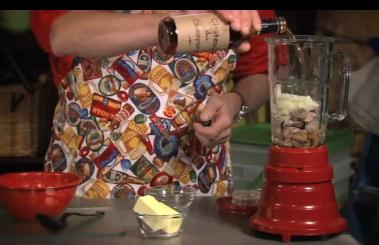 It was only 2 p.m., but the day already seemed about a week and half long, and for good reason.

By the second day of filming for my new web series, The Cheap Life, I'd already:

Struggled to audibly deliver my lines about the virtues of peanut butter while simultaneously attempting to eat copious amounts of it off my index finger;
Been dressed and redressed as an aging rock star, a '70s era jogger, and a character that seemed to be a cross between a pilgrim, Ben Franklin, and a space alien
Had my head shoved in a trash can and my face covered in mashed lentil beans.
"Man," I thought to myself, "this show is definitely going to be a hit ... if it doesn't kill me first."

The Cheap Life, which is produced by AARP, is a series of short (3-5 minutes) weekly "webisodes" which officially premiere on YouTube starting in January 2013. Each show will be crammed full of money-saving tips, lots of laughs, and chances to win cash gift cards and other great cheapskate swag. We'll be showing you how to save money on just about everything, reuse just about anything, and get the most out of life and your hard earned dollars.

You can watch this sample episode of The Cheap Life where you will find out more than you ever wanted to know about turkey giblets -- and get a recipe, too.

Be sure to subscribe to the show (it's FREE and easy - just click on the "Subscribe" icon and follow the prompts) so that you'll be eligible to win prizes and be notified as soon as a new episode is released.

I hope you'll check out The Cheap Life today.




Why wait until tomorrow to start saving money? Stay Cheap!

Photo credit: Simon VanSteyn