Black Friday Trends and Tips
By Jeff Yeager, November 25, 2013 12:59 PM
Black Friday, the day after Thanksgiving and the traditional start of the holiday shopping season, seems to be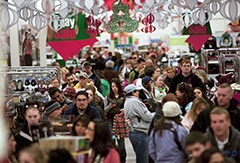 starting earlier every year. First we saw stores opening to hordes of shoppers at 4 a.m. Friday, then at 3 a.m., a few years back. Now some big-box retailers aren't even waiting that long. They're opening their doors on Thanksgiving Day this year, hoping families will eat and run to the nearest mall.
>> Sign up for the AARP Money newsletter

So what are folks clamoring to buy this season? The website Coupons.com surveyed more than 5,000 holiday shoppers to find out.
Here are the top 10 most sought-after items:



The North Face Denali jacket

iPad Mini 16GB

Dell Inspiron 15

UGG Classic Tall boots

PlayStation 4

LEGOs; LEGO Super Heroes Dynamic Duo and LEGO Friends Olivia's House

iPhone 5C 16GB

Xbox One

Samsung 32-inch HDTV

Canon PowerShot A2500
Whether you're buying electronics, a Furby (yep, they're back) or other gifts, here are some cheapskate tips for scoring the best deals:

Use social media: By following your favorite retailers on Twitter, Facebook and other social media, you'll be among the first to be alerted to discount deals, increasingly popular flash sales (otherwise known as deal of the day), online coupons and other special offers.
Comparison shop with apps: Consumers are increasingly comparison shopping between brick-and-mortar stores and online. You can comparison shop online, while inspecting the item in real time, by using apps like EBay's RedLaser, Amazon's Price Check and PriceGrabber. Here's how they work: The apps allow you to scan the bar code on an item with a smartphone or tablet. Then they instantly give you the prices of the same item currently being offered by other traditional and online retailers. Some stores, including Best Buy and Target, offer in-store price match guarantees to keep you from leaving to buy elsewhere.
Be creative and shop small: If you prefer unique gifts to the latest trends, or if you'd rather not fight Black Friday crowds, consider patronizing a local store or restaurant on Small Business Saturday, Nov. 30. I'm a big fan of local businesses (thrift stores and consignment shops are some of my favorites), and I was glad to hear that AARP is a small business supporter and is spreading the word about Small Business Saturday.
Discounted gift cards: A survey by the National Retail Federation found that nearly 60 percent of consumers say they'd most like to receive gift cards this year. Membership warehouse stores like Sam's Club and Costco sell discounted gift cards for many restaurants and other service providers. Gift card exchange websites like Cardpool, Plastic Jungle and Gift Card Granny sell unwanted gift cards from gift card recipients. Retailers including Barnes & Noble and L.L. Bean are offering a free gift card with certain purchases. Also, check with your credit card company, as some allow you to redeem reward points to purchase gift cards from their retail partners. In some cases, you could get an extra 10 percent to 25 percent off the card value as an incentive.
It may pay to wait: Resisting Black Friday deals may be nerve-racking for some shoppers. However, it may be worth it. A study last year by the website DealNews.com found that the best deals were actually scored a little later, during the first two weeks of December. That's because retailers are marking down items even more for consumers in order to unload inventories. Of course, if you're in search of some of this holiday's hottest items, you run the risk of supplies running low or being sold out if you wait too long.


Bottom line: No matter where, when or how you shop, be smart and stay cheap!

>> Get discounts on electronics with your AARP Member Advantages.






Photo: Credit: Matthew Staver/Bloomberg via Getty Images













Also of Interest



See the AARP home page for deals, savings tips, trivia and more