'Buy American' - Guess Who Does It Most
By Patrick Kiger , May 03, 2013 05:00 PM
A lot of Americans bemoan the number of factory jobs that have been outsourced or lost to foreign competition over the past few decades. But when it comes to supporting companies that make their products in the United States, it's older Americans who are most willing to step up and let their money do the talking.
That's the finding of two recent polls, which show that boomers and their predecessors in the " Eisenhower Generation" (ages 67 and older) are the most likely to choose American-made products when they shop.
Get in on the discussion: Largest Tax Increase in American History!
An April Gallup Poll, in fact, found that older Americans were the only segment of the public in which a majority made a special effort to buy products with a "Made in USA" label. The survey found that 53 percent of those between 50 and 64, and 61 percent of those 65 and older, try to find American-made goods when they shop. Just 45 percent of people ages 30-49, in contrast, look for U.S.-made products, and only 20 percent of consumers under 30 do so.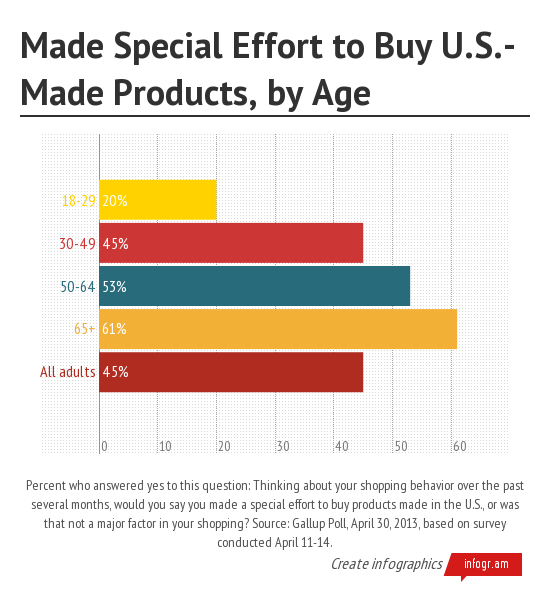 A Harris Interactive survey, conducted in late 2012 and released in March, also found that older Americans are most concerned about buying U.S.-made products; 86 percent of boomers and 85 percent of those over age 67 said they think it is important to buy American-made appliances, compared with 74 percent of Generation X members (ages 36-47) and 57 percent of those under age 35. When it came to automobiles, 76 percent of Boomers and 75 percent of the Eisenhower generation think it's important to buy an American brand, compared to 72 percent of Generation X and 58 percent of those under 35.
Interestingly, older Americans' loyalty to American products was so intense that roughly three-quarters of them felt it was important to buy American-made TVs, Blu-Ray players, and other electronics, even though few are made here.
Here's a Consumer Reports guide on how to find American-made products .
Also of Interest

Join AARP: Savings, resources and news for your well-being
See the AARP home page for deals, savings tips, trivia and more