Cheap Space-Saving Tips for Your Garden
By Jeff Yeager, May 29, 2012 09:42 AM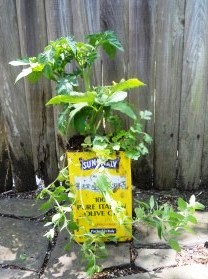 Gardening is a great way to enjoy the outdoors, get some exercise, and - depending on what you grow - maybe even save on your grocery bill. But what if your green thumb is bigger than the space you have available to plant the garden of your dreams this summer? Consider these options for getting a maximum harvest from a minimum amount of space.
Container Gardens: Whether it's fancy store-bought flowerpots or simply repurposing cans and other containers you might otherwise throw away, you'd be surprised at how many plants lend themselves to so called "container gardening." Because container grown plants tend to dry out quickly, most need watering every other day or so, but on the plus side they're easier to keep weed and pest-free. This is my "Italian Garden," including a cherry tomato plant, oregano, and parsley planted in an old olive oil can.
Square Foot Gardens: Pioneered by author and gardening expert Mel Bartholomew, the basic design is a raised bed garden, 4 feet by 4 feet square, constructed out of lumber and filled with a soil mixture designed to create optimum growing conditions. Depending on the crops planted, a single one of these raised beds can produce more than $100 worth of produce during the summer months. To maximize the financial return on your compact garden, consider planting things like herbs and spices, heirloom vegetables, and fanciful flowers-in other words, those things that cost the most when you're forced to buy them at the market. 
Vertical Gardens: Often combined with square foot gardening, vertical gardeners use trellises, cages, poles, and such to support and grow vegetables upwards rather than outwards. And if you have a sunny spot on the side of your house or on a fence in your yard, consider constructing a vertical garden by firmly attaching lengths of aluminum or plastic guttering (available at home improvement stores) to the sunny surface using support brackets, capping both ends and punching some holes in them for drainage. Then fill the guttering with a light soil mix and plant a bountiful wall garden; plus your lettuce crop will be safely out of reach from the local bunny rabbits.
Community Gardens: If you live in an apartment and have zero space for gardening, or if you want a bigger garden than your backyard allows, try renting a plot for the growing season at a local community garden - they're sprouting up everywhere. Find a nationwide directory of local community gardens on this website.
Here's to gardening large this summer, even in a small space.