Garage Sale Tips and Yard Sale Finds: Take Our Week 2 Challenge
By Jeff Yeager , April 09, 2012 09:53 AM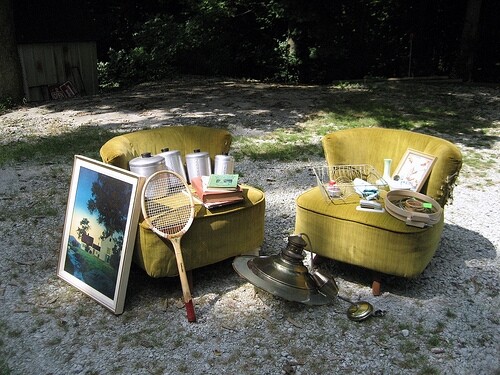 Best time for Finds
Out of all the seasons, Spring time is prime time for shopping at thrift stores, along with garage and yard sales. With spring cleaning on everybody's to-do list, this is the time of year when people sort through their unwanted items and either donate them to thrift stores or try to make a few extra bucks by selling them at a yard or garage sale.
Fun Factor with Surprise Element
Not only can you save a lot of money by shopping at garage, yard sales and thrift stores, but it's a blast, since you never know what you'll find. I once bought a painting at a thrift store for $7 that later was appraised for $1,200! Okay, so maybe it isn't the Mega Millions jackpot, but not a bad return on my original investment either.
Like any aspect of the Cheapskate Sciences, there are some ways to increase your odds of finding the best bargains when shopping at yard sales and thrift stores, like knowing the best times to shop and how to politely haggle for an even better price. You can find my top ten tips for shopping at thrift stores and yard sales and even watch a short video of me in action as I stalk some bargains of my own.
And check out this week's Savings Challenge, where we're asking people to tell us about the best deal they ever scored at a yard sale or thrift store, and even share photos of their secondhand treasures. I hope you'll enter this week's Savings Challenge (ending Sunday, April 15, 2012) and share your stories and photos-- you might even win a prize!
Here's how to find out more about the Savings Challenge and how to enter this week's challenge:
Join the AARP Savings Challenge on AARP.org through April 29. Learn how to get started saving, join the Savings Challenge group, and track your savings (and enter the contest) via the savings tracker. Your savings tips could win you a prize. Read our contest rules.
# # #
Photo by Juco via Flckr Creative Commons