GE Capital Ordered to Pay $225 Million to Consumers
By Carole Fleck , June 19, 2014 04:27 PM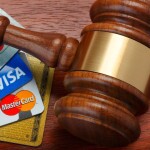 GE Capital Retail Bank must shell out an estimated $225 million to consumers to settle government claims that it discriminated against Hispanic credit card customers and persuaded other card holders to buy add-on products that promised to cancel part of their debt if they became disabled, lost a job or suffered from another hardship, the Justice Department announced Thursday.
"We will continue to take action against marketing tactics that trick consumers into buying credit card products they do not want or cannot use," said Richard Cordray, director of the Consumer Financial Protection Bureau, which worked with the Justice Department on Thursday's enforcement action. "Consumers also deserve to be treated fairly, no matter where they live or what language they speak."
>> Get travel discounts with your AARP Member Advantages.
GE Capital, which recently changed its name to Synchrony Bank, was ordered to refund $56 million to some 638,000 consumers for misrepresenting some of its debt-cancellation add-on products. In one approach, consumers who were retired or disabled were not told by the telemarketers that they were ineligible for key debt-cancellation benefits - and bought the products without knowing that. In other instances, people were told the products were free as long as they paid off the balance on their billing statement, when, in fact, the fee could be avoided only in very specific circumstances. Telemarketers also didn't make it clear to card holders that they were purchasing a product; rather, they made it seem that customers were receiving a benefit, the Justice Department said.
GE Capital did not offer those debt-cancellation products to customers who preferred to communicate in Spanish or had a mailing address in Puerto Rico, even if they met the promotion's qualifications. The government called that practice discriminatory and ordered the bank to pay another $169 million to about 108,000 Hispanic borrowers.
>> Sign up for the AARP Money newsletter
In addition, the bank agreed to fix negative credit actions about borrowers affected by the discrimination or deceptive marketing that it had sent to credit-reporting companies.
Customers who still have credit cards with GE Capital will receive a credit to their accounts or a check; those who don't will receive a check by mail.
Photo: DNY59/iStock
Also of Interest
See the AARP home page for deals, savings tips, trivia and more.