JPMorgan Chase Employee Accused Of Stealing $100,000 From Customer With Alzheimer's
By Carole Fleck , July 10, 2012 11:38 AM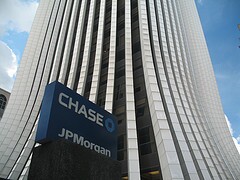 It's about as ugly as a story can get. An employee with JPMorgan Chase in Louisiana has been accused of siphoning $100,000 from the bank account of a customer suffering from Alzheimer's, according to a lawsuit reported by the Huffington Post.
The JPMorgan employee, who was not identified in the suit, allegedly established a new bank account for Herman Lafayette, who was deemed legally incapacitated as a result of Alzheimer's diagnosed in 2008. Then the employee allegedly gave himself a personal debit card on the account and proceeded to withdraw $300 a day over the course of a year.
The discovery that the money was missing was made by Lafayette's granddaughter, LaDonnis Williams, who became his legally appointed curator in March 2010, Lafayette's attorney, Karen Hayes Green, told the Huffington Post.
Lafayette is seeking punitive damages and reimbursement for the misappropriated funds.
A JPMorgan Chase representative was quoted as saying that the bank had just been informed of the lawsuit and that it takes "these matters very seriously" and will investigate.
As financial fraud against the elderly has increased, professionals in the field of aging have stepped up training for bank employees so they can spot suspicious transactions and other activity by elderly customers they deal with regularly, particularly those suffering from dementia.
Financial abuse against older adults knows no bounds. Last year, Mickey Rooney testified he was a victim of financial abuse by a family member. Experts say such crimes cost elderly victims as much as $3 billion a year.
Even banks have been accused of mishandling the accounts of elderly customers before. Last summer, it was reported that Bank of America had misdirected $30,000 worth of Social Security checks that were meant for a Riverside, California, man. The bank only corrected the error after the San Bernardino County district attorney's office launched an investigation.
In that case, the Los Angeles Times reported, Robert Weber, 88, failed to receive monthly Social Security checks totaling about $30,000 over the course of nearly two years. It turned out that BofA had assigned a single number to Weber's account and the account of another customer, who'd been getting Weber's Social Security deposits instead, according to the paper.
Weber's family told the Times that BofA did little to fix the situation until the DA got involved. Moreover, the Social Security Administration, not the bank, ended up refunding the missing money.
"What's really despicable is that the bank knew all along that it was responsible," David Madden, Weber's grandson, told the paper.