Spring Cleaning: What Treasures Did You Find?
By Jeff Yeager, April 23, 2012 09:29 AM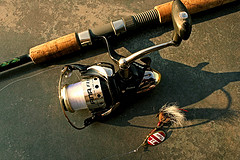 I'm one of those kind of people who actually enjoys spring cleaning. Sure, part of it is that it's refreshing to change things up around the house, and start to be able to once again make use of outside spaces like decks and patios.

But - being a notorious cheapskate - I'll also admit that part of my enthusiasm for a rigorous round of spring cleaning is that it always seems to make me some money and save me even more. I always come across all types of things I no longer need or want, so I couple my decluttering with setting up a little sales table at a few community flea markets or sometimes selling more valuable items on eBay or Craigslist.

Some years I donate unwanted items to a local thrift store instead, but even then I'm making money because the fair market values of the items I donate generally qualify as a tax deduction-- a real win/win.

And spring cleaning, if you do it right, can save you some serious money as well. First, it's a chance to rediscover - and put into use - things you have around the house and have forgotten you even own. This year I was hankering to buy a new fishing rod, but when I was cleaning out the garage I found one a friend gave me years ago when he moved out of the area. That was probably a $100 savings right there, not including the value of all the lunkers I'll no doubt be putting on the dinner table with that rod and reel once I have my spring cleaning finished.

However the savings associated with spring cleaning doesn't end there. You can save on home energy costs by taking the time to clean things like the filters in your air conditioner and the coils under your refrigerator, as well as money-savings tips for making your own home cleaning supplies.

Speaking of spring cleaning, the week's Savings Challenge (April 23-29, 2012) is devoted to that topic. We're asking you to tell us the story of your spring cleaning, and maybe even show us some pictures to go along with it (HINT). Tell us what you're getting rid of - either by donating it, selling it, pitching it, or recycling it - and tell us about any hidden gems (like my fishing rod) that you've discovered during your spring cleaning and decided to put back into active service.

Join the AARP Savings Challenge on AARP.org through April 29. Learn how to get started saving , join the Savings Challenge group , and track your savings ( and enter the contest ) via the savings tracker . Your savings tips could win you a prize. Read our contest rules .

# # #

Photo by WabbyTwaxx via Creative Commons.